Maze Rattan
Welcome to the wonderful world of Maze Rattan furniture. Whether you're hosting a dinner party in your garden or lounging in the sun, al fresco life just got that little bit simpler (and that much more fun!).
At Cuckooland, you'll find all the Maze Rattan favourites. Looking to entertain large groups of friends outside? Or rather just create a cosy corner for two? Either way, our extensive options have you covered.
You can sit back and enjoy a hassle-free upkeep, too. Maze Rattan furniture uses maintenance-friendly material to stay comfortable and stylish all year round - whatever the weather.
Order your new Maze Rattan set from Cuckooland and you can spread the cost of luxury with affordable, monthly repayments. Sound good? Here's everything you need to know before you order your set:
Maze Rattan FAQ's
Where is Maze Rattan furniture made?

Maze Rattan products are proudly designed in the UK with manufacturing taking place in Vietnam and China. They're designed to withstand our (not-so) Great British weather - rain or shine, your Maze Rattan set will stand the test of time in your garden.

Can I spread the cost of a Maze Rattan furniture piece?

At Cuckooland, you certainly can spread the cost of a Maze Rattan piece. Depending on your suitability, we offer you the option to enjoy your furniture straightaway and repay the cost later with affordable, monthly repayments.

Is Maze Rattan furniture weatherproof?

For minimal maintenance, Maze Rattan is crafted with durable and long-lasting material. With UV-resistant and waterproof technology, you won't need to keep your garden furniture set hidden away once it's time to head inside. And you can wipe any spills away without any drama!

Do I need to assemble Maze Rattan furniture?

Maze Rattan pieces are super simple to assemble. With minimal set up, you can flop back into the soft cushions within just a couple of hours!

Is there a Maze Rattan furniture set with a fire pit?

Looking to add a glamorous touch of heat to your garden? A sofa seating area with a built-in fire pit will keep you warm and cosy all night long. The Winchester Royal U-shaped sofa set is complete with a gas-fired pit to light up your al fresco nights.
Require more assistance?
From help setting up your Rattan set to questions about finance, our friendly team are here to help. Simply call our friendly advisers on +44 (0) 1305 231231 or send us an email today.
Maze Rattan guides & advice
Maze Rattan is this Year's Must Have Garden Furniture
With warmer weather on the way, it's time to start making the most out of your garden. And whether you're enjoying a staycation at home or a catch-up with friends, Maze Rattan caters for every outdoor occasion. Here's how you could enjoy this year's must-have garden furniture…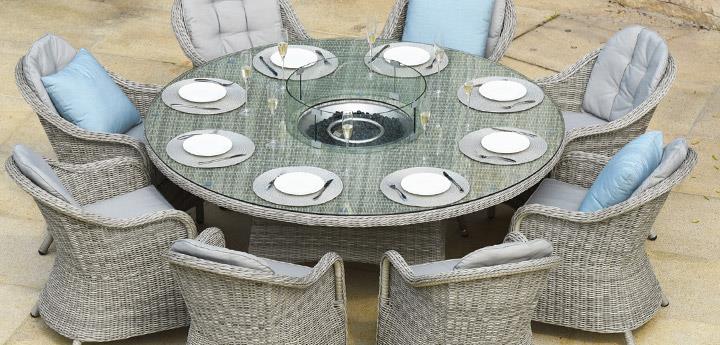 Maze Rattan - The Perfect Furniture For Your Outdoor Space
From settling on the style to finding the right size, there's a lot to think about. And when you're after something to enjoy for years to come, it's not a decision you'll want to get wrong. But luckily, Maze Rattan have you covered. With their wide collection, there's something for everyone – you can choose from different styles and ranges to find a piece that perfectly complements your garden.