A Spring Inspired Kids Bedroom Makeover
While we may be experiencing a Spring like no other we've seen before due to the Coronavirus pandemic, and "normal" life feeling as though it's been put on permanent pause, nature is in full swing. Emerging from its dormancy; bursts of life are seen throughout ours garden's and parks, swallows have made their welcome return and the evenings are drawing out – spring has most definitely arrived and will pause for no man.
Every season evokes different feelings, sparking us humans on to do something; plang some flowers and vegetables, light a fire, carve a pumpkin, sing around a brightly lit tree or simply bask in the glorious sun. For many, including myself, spring is all about renewing, revitalising and having a good old "spring clean"!
Spring is the ideal time to tackle a kids bedroom makeover (hopefully they will have tackled the spring cleaning of it first!) be it a simple tidy and tweak or a complete overhaul. If you're considering updating your kid's bedroom this spring, here are 5 spring inspired ideas for a creative kid's room.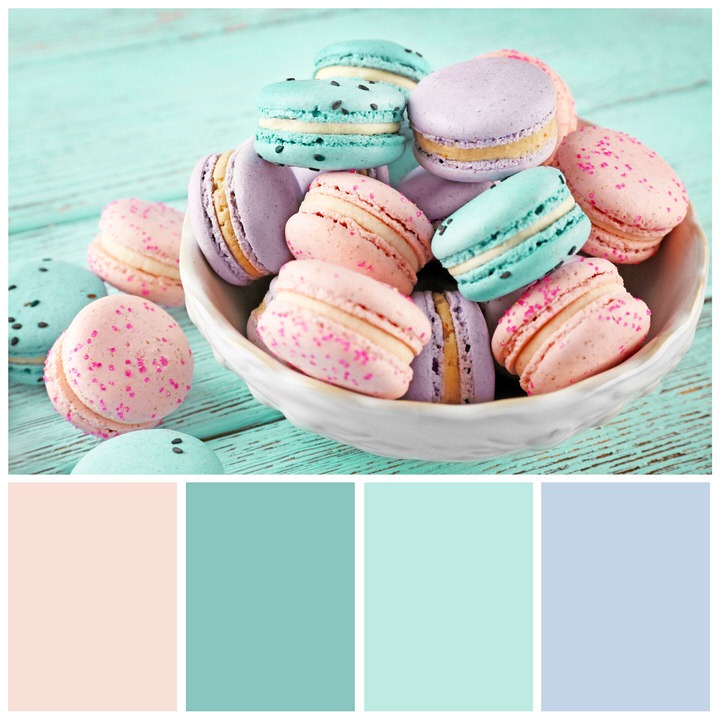 1. Spring Colours for a Cool Kids Room
Colour is a powerful tool and can completely change the look and feel of a room. Whether you embark on a full room re-paint, add a statement wall or introduce some new bedroom furniture or bedroom accessories, changing the colour scheme is a reasonably quick way to update your kids bedroom – the big question is, which colour?!
Choosing the colour for your kiddies bedroom will largely depend on personal taste (both yours and theirs, fingers crossed you're on the same page!), whether you want the colour palette to follow the aesthetic of the rest of the house and, to a degree, how brave you are! Brave is risky, but it almost always produces the most exciting and memorable result.
Using Dulux's 2020 colour of the year, tranquil dawn, as inspiration, you could adopt a spring pastel colour theme for your child's bedroom – think gentle pinks, greens and lilacs (like these mouth watering macaroons!). Whether you chose to paint or wallpaper, a pastel bedroom will appeal to both younger and older children.
Introducing pastel colours to your kid's bedroom doesn't have to involve re-decorating, you could opt for switching up the furniture with a new pastel bed, like this Kiddy Bed. Combine with the Kiddy Toy Storage and Shelving for a co-ordinated look.
For a bold makeover, transform their space with primary colours. Pantone's 2020 colour of the year, classic blue will certainly inject a splash of bold colour. If you're unsure about how to decorate and style with such a strong colour, Pantone have even created 5 unique colour palettes to inspire you. If you're not up to committing to a primary colour on the walls, Mathy by Boys offer a choice of 26 colours across all their kids furniture collections. A gorgeous tree bookcase like this Louane Bookcase, finished in a pop of primary colour would most definitely spruce up a neutral wall.
2. Kids Storage for a Spring Cleaned Bedroom
So, the big spring clean has been completed – either under protest or with full co-operation (can you guess which camp my kids fall into?!) Their room is looking spotless, almost instagramable! The challenge is, how do you encourage them to keep their bedroom tidy? Trust me, if I was given £1 every time a worn down parent asked me this, I would be a Victoria Beckham wealthy!
Kids Bedroom Storage is great place to start, accessible and adaptable storage go a long way in helping kids to keep a tidy bedroom.
Open storage offers easy access and helps your nippers quickly get their hands on their favourite toy as well as offering a place to proudly show off their latest creations.
Toy boxes are great for providing one gigantic home for all their toys, from teddies to racing cars… just remember they also serve as a holding tank for socks, so when you're hunting for all the odd socks, be sure to check the toy box!
Modular storage systems are another brilliant option for a kid's bedroom, like the Stige collection from Vox. From cabinets to wall shelves and bookcases, you can create a bespoke storage solution for your kid's bedroom.
3. Make Homework more Fun
With spring in the air, homework can become a little less appealing. It's not so bad to hunker down when it's wet and cold outside, but when the sun has his hat on and the evenings get lighter, it's more tempting to do anything but homework!
Encourage your kids to keep a spring in their homework step by creating an attractive destination to sit down and work.
Childrens Beds with Desks are brilliant for smaller bedrooms where space is limited, like this smart set up from Lifetime, the High Sleeper Bed offers up plenty of space beneath for some serious study.
For bedrooms that can accommodate a Freestanding Desk there are many options to choose from.
Desks with drawers provide more important storage for those homework essentials – like pens and pencils, absolutely not a place to hide the phone from mum's beady eyes!
Desks on castors are easy to move around and can be useful if your child wants a change of scene every now and again.
For younger children, I particularly like the Vox Tuli collection – and if you've opted for a pastel theme these would make a great choice.
4. Spring Themed Bedrooms for Kids
If you're going all out for a complete bedroom makeover check out these super cool spring inspired themed rooms for some serious brownie points!
While camping for real may not be possible this year, you can bring the camping adventures inside to their bedroom. Beds with canopies or teepee beds make a perfect spot to settle down for a night under the stars (they may be stick on, but you can still count them!). Team with a hanging chair or a wigwam play tent and some cool kids bedroom accessories to finish the look. Maybe hold off on the campfire beans… they may be good for your heart but they certainly make you (fill in the blank!).
Spring is a glorious time of year in any woodland, regenerate the beauty of this natural habitat by creating a woodland themed bedroom. Bursting with colours such as white, blue, purple and yellow, draw inspiration from nature when you're deciding on a colour palette.
For a wonderfully creative woodland bed that will have them sleeping up there in the canopies consider a kids treehouse bed. These awesome beds get my vote every time, and will create a real focal point in a themed bedroom.
If I were a fairy (sadly I'm not), I know for sure that I would love spring! The garden comes to life, bees are buzzing, flowers budding and the grass is sprouting – providing the perfect hiding place, until the pesky humans come along and mow it! What better spring bedroom than a fairy themed bedroom, lending itself perfectly to the soft pastel colour palette.
If you're worried that your child will quickly outgrow a themed bedroom, you can opt to keep the colours more neutral and add accessories to compliment it. Bedding offers a quick and easy update, Snurk have a fabulous range of character bedding, including this rather dainty fairy.
5. Kids Beds that will help them Spring out of Bed
Getting a good night's sleep is what every household yearns for – there is tons of research into the importance of sleep for your health. If your child is experiencing difficulties in sleeping, there could be a number of reasons as to why. It's helpful to run through a little checklist, before seeking professional advice, just to rule out any causes that can be managed within the home.
Check that your child's mattress is still offering full comfort and support. Mattresses don't have a infinite lifespan and considering the amount of time that we spend on them, it's important you regularly check the health of your kid's mattress (and yours!). For more information about this highly important but often overlooked mattress health check, take a look at my blog covering all you need to know about when to replace your kids mattress.
Setting a regular bedtime routine may not feel like it will have a significant impact on your child's sleep, however it can make a huge difference to their sleep quality. If you've not already established a bedtime routine for your child, why not try to implement one and see if there is an improvement in their sleep.
Children grow – fact. Sometimes seemingly overnight! It's like looking out at your spring garden, one day you see little spurts of growth, then the next you're having to get out the bamboo canes to support sky bound stalks. If only we could prune our kids! If your child is sleeping in a cot, or toddler bed, they may have outgrown these first beds and it may be time to upscale to a bigger kids single bed. Cuckooland have a huge selection of amazing kids beds, with so much choice you're bound to find a new bed that will help your child have a restful sleep and wake up feeling refreshed.
I hope you've been inspired to spring (couldn't resist!) into action and transform your kid's room with a spring makeover.
I'm off to frolic through the bluebells and be a fancy fairy (in my dreams!), actually I'm off to source some more amazing kids beds for Cuckooland! Is you need any help be sure to call our Dream Team on 01305 231 231 or email us here.