New Year… New You… New Kids Mattress
Welcoming in a New Year is often the catalyst for making a change or two, let's face it, there's no better time than the beginning of a new year to make those well meaning, positively life changing resolutions, you know, the ones that we all promise to keep but more often than not fail at miserably!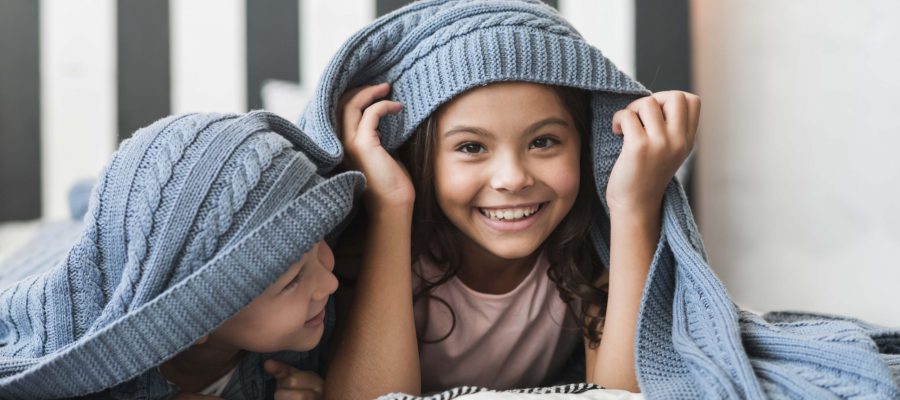 Research has shown that a whopping 50% of all adults make New Year's resolutions, however less than 10% manage to keep them for more than a few months. I'm not surprised, are you? I thought the % would be even lower based on my success rate over the years. Top of the list are the usual suspects; hone one's body to the shape of our favourite celebrity; join a local gym (if you're placed on a waiting list in January, don't worry, by February there'll be loads of space
), shed excess pounds by trying the next best fad diet (I said 'fad' not 'fab'); try to be a better person (sorry kids, that lasted all of a nano second) and attempt to complete all those home chores that have spilled over from last year's list. What? No, I'm not being negative.
It's all true and you know it, but hey at least we're all trying right! And to all those superhero types that fall into the 10% category I say this; 'Nice one and thanks a lot for showing us up, it was only supposed to be a nonsense little list!'
One resolution that is rarely seen on the "must do this year" list is to buy a new mattress – funnily enough, now top of my 2020 checklist is to replace my kids' mattresses, having realized (after researching this piece) that they are probably well overdue a change.
A question I'm often asked by puzzled parents is "how do you know when to replace your child's mattress?". Unless they're complaining about bumpy and lumpy bits preventing them from getting those much needed ZZZ's, how do we know when a mattress has reached the end of its life?
Industry guidelines from the National Bed Federation and the Sleep Council are that adults should ideally change their mattress every 7 years. Now how many of us knew this? I didn't, and my job for the past 10 years has been to source mattresses and beds!
Research carried out by the Furniture Industry Research Association highlights the following;
"A bed may have deteriorated by as much as 70% from its 'as new' state after 10 years."
It also revealed that;
"Beds as little as six years old could offer significantly less support and comfort than a new one, thanks to wear and tear not just from body weight and movement but also sweat and debris such as skin, scales, hair etc."
(Research by the Furniture Industry Research Association, 2011)
Eeeew, I won't dwell on the latter part of that quote too long (this is where I could include a giant close up picture of a bed bug… but I'll spare you that delight, just the thought is making me all itchy and scratchy!).
Helping your children to achieve good quality sleep is an essential ingredient when it comes to developing a healthy lifestyle for them, and the primary contributing factor to sleeping well is a comfortable kids bed and mattress.
However, mattress buying can be a bamboozling task, with so many different options and sizes, it's understandable why this bedroom essential is often overlooked. Take a seat and read on, I have pulled together my expert knowledge of mattresses and created this helpful guide to buying a new mattress.
Why should I change my child's mattress?
You may be wondering what all the fuss is about – isn't a mattress a bit like owning a dog – for life?! Sadly not, attached as we may get to our bedtime pal, here are a couple of reasons why it's good to update your mattress… warning, the first point might make you do that itchy, scratchy thing again!
Hygiene
According to the experts, we lose in the region of half a pint of fluid every night, yes every night! We also shed approximately a pound of dead skin cells each year… eew. This means our mattress becomes the ideal environment for bacteria and mould to grow, creating the perfect home for dust mites… double eew! These pesky mites produce allergens that can build up and create an unhealthy sleeping environment.
To improve sleep quality
Over time, a mattress can lose its shape and begin to lack the initial support that it once offered. We do tot up a fair few hours loafing on our mattress so it's not surprising that they can become uncomfortable and a real pain in the neck, literally! This, in turn, can reduce your overall quality of sleep and prevent you feeling well rested and raring to go the next day.
When should a mattress be replaced?
As noted above, the National Bed Federation advises that adults should replace their mattress every 7 years. Considering that on average we spend a third of our day asleep, if you do the maths (I had the assistance of my trusty calculator) then over a period of 7 years this amounts to a staggering 20,000 hours worth of use! It's no wonder your mattress may be a little worn out!
For children's beds you may need to replace them before, particularly if they have had the same mattress from a very young age. Children experience spurts of development and get bigger and bigger each and every year so it's important to ensure that their mattress is providing suitable support for their growing bodies.
How do you know if it's time to replace your child's mattress?
Aside from your child blatantly telling you that their bed is about as comfortable as sleeping on a bed of nails, here are some common signs that it's time to shell out for a new mattress:
1. Your child's sleep is unsettled and disturbed
If your child is experiencing disturbed sleep, their mattress may be a contributing factor. A good quality and supportive mattress should help promote a restful nights sleep, supporting their body correctly and helping them to achieve a deeper sleep. Older mattresses can become uncomfortable and less supportive, so if they aren't getting a good night's sleep it could be time to replace their mattress.
2. The mattress is lumpy
The odd lump and bump is quite acceptable, however if your child's mattress could be mistaken for the rolling hills of Tuscany then it's time to replace! Lumps and bumps can be caused by damaged or faulty springs and can be extremely uncomfortable.
3. Are they complaining of aches and pains
Aches and pains are a fairly normal occurrence once you tip over into the more mature years (and of course now you've taken that new gym membership, aches and pains may be a welcome sign that you're training hard!) however if your child starts to complain of feeling stiff and achy on getting up in the morning, it may be sign that their mattress is no longer offering the level of support that it should.
4. They think there's a squeaky, creaky monster under the bed
Chances are that if your child is hearing strange noises during the night, it's not an oogly boogley monster under their bed! Components such as springs and coils are subject to wear and tear, so if they start making a noise it can be due to them not compressing as they should and is a sign that their mattress may be due an update. If your child is feeling a little scared by such noises, take a look at our special formula Anti Nightmare Mist to help them doze off to sleep peacefully!
5. They comment on how comfortable other beds are
Often we're so familiar with the norm that it's only when we experience something else that we realise our norm may not be the best! If your child returns from a friends house where they've enjoyed a sleepover, or begs you to let them stay at grannies house again, this may a sign that they are finding other beds more comfortable than their own – or a sure sign that you need to improve your cooking skills!
6. Are they unusually tired and grouchy
Tiredness and children generally go hand in hand – and it's not just us parents that suffer from tiredness! If your child is experiencing feelings of tiredness it may be a good idea to take a look at their mattress. A good quality mattress provides your child with comfort and support that in turn promote a more rested and deeper sleep, if your child's mattress is past its 'use by' date then it could be affecting the quality of their sleep.
For a quick recap take a look at this video made by the National Bed Federation.
Now you have established whether your child's mattress needs replacing – what's next?!
There are just a few key points to consider to ensure that you buy the right mattress for your child;
This may seem an obvious thing, but I've heard many a story of parents who have ordered a new mattress only to find that it doesn't fit their child's bed! The standard mattress sizes available are as follows:
Bed Type
Bed Size (ft)
Bed Size (cm)
Bed Size (inch)
Bed Size (Euro cm)
Small Single
2ft 6″
75cm x 190cm
2'6 x 6″3
90 x 200
Single
3ft
90cm x 190cm
3' x 6'3"
90 x 200
UK Small Double
4ft
120cm x 190cm
4' x 6'3"
120 x 200
UK Double
4ft6
135cm x 190cm
4'6" x 6'3"
140 x 200
UK King size
5ft
150cm x 200cm
5' x 6'6"
160 x 200
UK Superking size
6ft
180cm x 200cm
6' x 6'6
180 x 200
Note the slight difference in size for European size beds, these all require a longer 200cm length mattress rather than the standard 190cm for UK size beds.
Once you have measured your child's bed to find the ideal size of mattress, the next step is to decide which type of mattress will offer the ultimate comfort for them.
What mattress is best for a child?
When choosing the right mattress for your child, firmness should be a key consideration. Due to the fact that children are growing (a toddler can grow up to 1.5cm per night!), spinal support is the most important benefit the mattress should offer. A pocket sprung mattress is ideal for children as it combines a balance of ideal firmness and comfort. A pocket sprung mattress has just the right amount of consistent firmness to support a neutral position during sleep; which is best for younger children's rapidly growing spines, as it eases stress and excess pressure.
Memory foam and latex are also popular choices, these are more suited to older children who are not experiencing such rapid growth. Both memory foam and latex offer a softer feel and are designed to mould to your body.
Opting for a mattress with natural fibre filling is another great option for children, made without the use of chemicals, so you can be assured that your child is sleeping safe and sound (and so is the environment!).
For a more in-depth look at which mattress to buy for your child, jump over to my ultimate guide to kids mattresses – here you will find detailed information about sizing, the different types of mattresses available and other considerations!
I hope you've found this article useful in helping you establish whether you too should consider updating your children's mattresses in 2020 – and after the tales of bed bugs and dust mites I think I might just update mine as well! Just as soon as I complete my dry January resolution (only a few days to go!).