5 Reasons Why Imaginative Play Helps Kids Learn
Imaginative play is essential for your kids.
Because while it's a great way to let off some steam, it also opens up a whole world of possibilities. When kids play pretend, they actually learn plenty of new and important skills along the way. Humanistic Psychologist, Scott Barry Kaufman explores this idea in his article 'The Need for Pretend Play in Child Development' –
"The research reviewed by Berk, Mann & Ogan, (2006) and Hirsh-Pasek, Golinkoff, Berk, & Singer (2009) suggest that make-believe games are forerunners of the important capacity for forms of self-regulation including reduced aggression, delay of gratification, civility, and empathy. When children use toys to introduce possible scenarios or friends, the representation of multiple perspectives occurs naturally. Taking on different roles allows children the unique opportunity to learn social skills such as communication, problem-solving, and empathy (Hughes, 1999)."

Here are five reasons why you and your little one need to make more time for play time….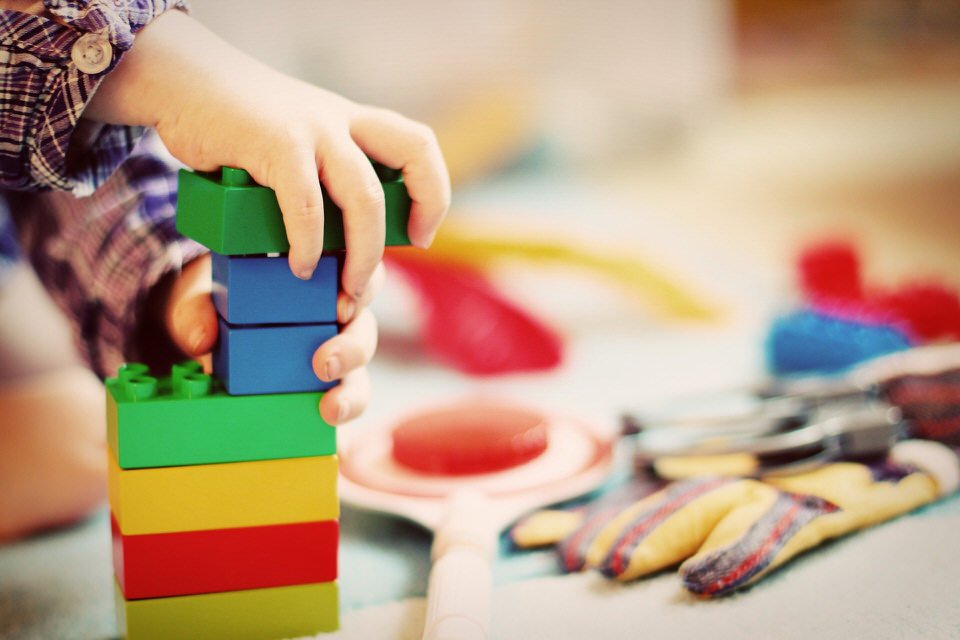 1) It boosts their creative development
Research shows that pretend play is super important for cognitive flexibility. In other words, imaginative play is great for, well, their imagination!
When kids develop an active imagination at a young age, they train their brain to think outside the box. Having a healthy imagination is a must for day-to-day activities, like reading a book or enjoying a film – and it helps kids make decisions and solve problems, too.
So while it might look like your little one is hosting a teddy bear's picnic, they're actually doing some serious brain training.
Psst… the Bloomingville puppet theatre is a real treat for kids, and it's great for sparking their imaginations. Being a puppet master really helps your little ones think on their feet and create stories as they play.
2) It aids communication skills
Pretend play is perfect for practising budding conversation skills. Whether your little one is playing house with their buddies or talking with their toys, imaginative play encourages kids to experiment with language.
Research shows that children who enjoy imaginative play use higher forms of language than they would in other situations. That's because kids often pretend to be adults when they play, so they try out language that's not familiar to them.
Plus, pretend play gives kids the motivation to learn new phrases and expand their vocabulary. For instance, learning how to ask 'how much does it cost?' or 'how can I help?' might not be much fun without context. But when it comes to a roleplay game, it's all part of the fun. The best bit is, youngsters won't even realise they're learning!
The more scenarios you recreate with your kids, the bigger potential there is to learn new phrases. And from running a market stall to nursing a patient back to health, our role play options are designed to bring your little one's language skills to life.
3) It builds understanding and empathy
Unfortunately, kids aren't born with the capacity to see the world through other people's eyes. To develop empathy and understanding, kids have to learn these traits through play – especially with other children.
Research suggests that kids who regularly take part in pretend play find it easier to display empathy. When children play roleplay games, they typically pretend to be someone else. This means they start to develop the necessary skills to understand a different perspective.
And when kids play together towards a shared goal – like making a 'meal' together – your kids learn how to share and be patient with one another. As they have to work together and cooperate, it's a great way to practise bonding and teamwork skills.
Here's a few fun ideas to kickstart your little one's empathy building…
4) It develops problem solving skills
Everyone needs problem solving skills. Without the ability to solve problems, we'd struggle to overcome life's daily challenges. Like deciding not to have that extra biscuit…
We gain the brain power to solve these problems at a young age. Imaginative play helps your kids develop the logical skills needed to make decisions later in life.
In every imaginative game, there's always an element of decision making. From who's involved in the game to making any rules, the list goes on.
And in role play or pretend games, there's often a 'problem' to overcome. Whether a doll needs rescuing from a dragon's clutches or has to get ready for a party, kids need to plan their next steps in the game. This kind of play sparks cognitive thinking skills that are essential for day-to-day life.
5) It helps physical development
From swooping around like Superman to making a mud pie, pretend play is great for physical development. Kids are always racing about during playtime, and that's great news – because it helps them keep fit.
Pretend play is super important for developing fine motor skills, too. In plain English, fine motor skills are what we use for those fiddly little jobs. It means we can use hand-eye coordination to perform intricate tasks like writing or sewing.
Whether it's building LEGO or dressing up dolls, pretend play supports your child's physical development and motor skills. Take a look at the beautiful Wooden Sorter Ring Truck by Kids Concept (below) – when your little one sorts hoops by size and colour, they give their brain and their motor skills a workout.
How can I encourage imaginative play?
When it comes to inspiring your little ones to use their imagination, it's all about being as creative as possible. Here's how you can nurture pretend play:
Bring day-to-day objects to life
Kids can turn any mundane activity into a game. And when you give them a head start, their imaginative streak will really flourish.
So instead of heading to bed, why not take a campervan trip to far flung lands? Or hide out in the Wild West inside a cabin bed? With our range of novelty beds, your little one will have heaps of inspiration to imagine new worlds.
Introduce different scenarios and join in
When your kids experience new things, you give them inspiration to think up new games. So whether it's a trip to the farm or the supermarket, new experiences help them imagine different role play games. Take part and ask questions to help your child think on the spot – but let your kids take the lead.
Provide toys and props
Having the tools to bring your child's imagination to life makes all the difference. Just one simple prop – like a princess hat or a cash register – means your child's pretend world feels much more real.
Make a den
Kids love a fort. Because while it might just look like a den to us, it can be anything for your kids – from hiding out in a cave to camping out in the wilderness, a fort can introduce a whole new world of possibilities.
Take a peek at the Pino Mid Sleeper (below). With a curtain underneath the bed, your kids can enjoy their own private den every day.
Make time for play
The most important thing you can do is make more time for play. You don't need to stick to a designated 'play time' – you can introduce pretend play into everyday activities, like washing up or going for a walk.
Because while these might seem like boring tasks, they don't have to be. Maybe you're a maid for Cinderella, or pirates out searching for treasure. See? The possibilities are endless!
Browse our toys to fuel young imaginations
Whether your little one is a wannabe doctor or fancies running a market stall, our selection of role play toys have you covered. They're designed to make life a little more fun and give your kids the tools they need to grow and learn.
Got a question? We're here to chat on +44 (0) 1305 231231, or you can send us an email.