The Definitive Guide to Outdoor Rugs
To give you the kind of warm and fuzzy feeling that comes with owning a beautiful outdoor rug, we have created a definitive guide. In our guide you will find all the information you could possibly need on why an outdoor rug is an essential accessory. So sit back, relax and let us take you on a magical carpet ride…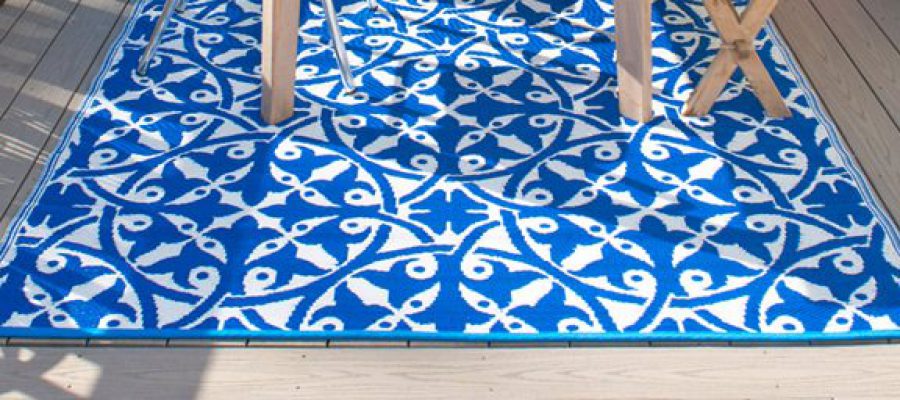 The Versatile Outdoor Rug
An outdoor rug is exactly what it sounds like; a soft stylish familiar place to sit when enjoying the great outdoors. This could be in the comfort of your garden, or on the top of a beautiful mountain. Whatever you plan to do this summer, an exterior rug should be you're trusty companion.
The Garden
For many, the outside rug will provide the perfect place to sit and relax when it comes to entertaining in the garden. Our outside rugs look perfect in any green setting, and the superb range of colours available in our collection means that you can introduce intricate patterns, textiles, and style to your garden. Our outdoor rugs have been treated to outlast the British summer time and will provide a much needed resting place that has all the comfort of a soft, luxurious surface. No need to take them in when Winter strikes- simply leave them outside and brush or hose them off when there's a gap in the weather or our beautiful summer returns.
A Beach Trip
Forget the oversized towels that blow away when a gust of wind appears, what you need is an outdoor rug to take with you to the beach. A large number of our rugs have been crafted and woven in such a way that all it takes is a little shake of the rug to dislodge any unwanted sand. No sticky wet sand on damp towels! And they can provide a wonderful area for you to enjoy the beach whilst keeping those beach towels free for drying off.
The Perfect Picnic
We all have that perfect little picnic area at the park and with the popularity of national parks in summer it can sometimes seem impossible to secure a picnic bench in time for tea and sandwiches. So take one of our large outdoor rugs with you and you will always have a perfect spot to enjoy a picnic. The durable nature of our outdoor rugs means that spills and mishaps can be easily cleaned up and bottoms can remain grass stain free.
The Happy Campers
If you have a family that just loves to camp then an outdoor rug will be a welcomed addition to your great expedition into the wilderness. Our outdoor rugs feature extra layers of padding which will ensure a comfortable surface to sit on. Exterior rugs can bring that little bit of comfort to unknown surroundings and with their lightweight nature an outdoor rug can be transported easily.
An Outdoor Rug For All The Family
When it comes to a busy household we know that items for the home have to stretch to every family member. With a frenetic house made up of grown-ups, kids, and pets, getting the most out of your home additions is a must. Thankfully for us, our stunning range of rugs is suitable for all the family.
Kiddie Play Time
Kids are busy little beings, they can create mess and havoc in an empty room. This means that when it comes to furniture, most parents look for hard-waring and durable additions to the home. Our outdoor rugs are manufactured to take on the mammoth task of keeping up with the kids. Whether it's dirty footprints, spills or using the rug as a dance mat, you can be sure that our rugs can outlast any kiddie play time. All of our rugs are easy to clean and are made from materials that know how to handle wear and tear, kiddie style.
Pets Glory
As a nation of animal lovers we endure all sorts of trials and tribulations when it comes to owning a beloved pet. From scratched up furniture to bin raids and toilet roll destruction, having a pet is great for the soul but not so great for your home furnishings. It goes without saying that any addition to the home must be durable and pet friendly and with our outdoor rugs you can be sure of this. Many of our exterior rugs are made from natural fibres which wont irritate a pets sense of smell. Being easy to clean means that when Rover shakes off the mud from his fine coat, it can be wiped away from the rug, our woven rugs won't succumb to the demands of claws, and the soft textures will appeal to your pets loving side.
Rug Ideas For Around the Home
An exterior rug is a wonderful addition to the garden but with it's versatile nature you can add this unique accessory to pretty much any room of the home, giving a quick make over to a rooms decor.
Kitchen
The kitchen is really the heart of the home and is often the place where comfort and softer furnishings are missing. For practical reasons a kitchen usually features laminate, wood, stone or tiled flooring and without underfloor heating the kitchen floor can be a real toe curler in the winter. So why not add one of our super warm and super soft rugs to the kitchen and create a stylish floor covering which is durable and easy to clean. With such a extensive range of styles and colours to choose from, you're sure to find one that compliments your kitchen perfectly.
Conservatory
Often the last room before the garden, the conservatory can see a lot of footfall and the floor usually pays the price for a summer spent walking in and out of the house via the conservatory. So why not introduce the comfort and floor protection of an outdoor rug to this high traffic area? Our Fatboy rugs feature a PVC under layer which will act as a useful barrier to the floor and give you a soft and luxury welcome every time.
Hallway
They say first impressions count most, and if the hallway is what guests see first its only natural to want to spruce this area up. With our long runner rugs you can transform a hallway from drab to fab in a second. Dash and Albert have some amazing hallway runner rugs which provide added depth and style to a narrow hallways.
As an environmentally conscience brand, Fab Hab are on a mission to introduce your home to stylish outdoor rugs which are as eco friendly as they are beautiful. This earth loving message is reflected in each and every rug they produce. The blue and green tones used in their rugs are symbols of the companies commitment to the global environment. The circular shapes featured on these unique rugs is symbolic of Fab Hab's commitment to using locally sourced artisans to produce their goods. The leaf patterns on their outdoor rugs symbolises their support of fair trade and local partnerships for environmentally friendly products.
Dash and Albert are a US based interior designer who have some very style-conscience fans. Known as one of the best in the biz when it comes to top interior and exterior design ideas in the U.S, Dash and Albert have built up a great reputation based upon their wealth of knowledge which goes into every one of their rugs. Dash & Albert rugs have featured heavily in magazine articles, newspaper features, columns and TV segments the world over.
We all take pride in our living space which is why our outdoor rugs have proved to be so popular. Our customers love the versatile nature of our outdoor carpets which can be literally used anywhere. So why not inject a little stylish creativity in and around your home with one of our fabulous rugs and make those summer memories all the more colourful and comfortable. If you have any questions regarding our range of rugs, get in touch today either by phone +44 (0) 1305 231231 or email customerservice@cuckooland.com or drop us a line on Facebook where we will be happy to help.