World-Famous Weathervanes
Weathervanes. Yes, those compass-chicken things that traditionally go on top of farmhouses and six-story mansions in the London Borough of Kensington.
Ok, here's our more formal definition: A weathervane is a decorative apparatus that generally goes on the highest point of a building. It often features an ornament – traditionally a cockerel – which will turn in the direction in which the wind is blowing, often helped by a feature portraying the points of a compass.
And guess what? They're coming back into fashion! And Cuckooland is way ahead of the trend. We're into anything that's quirky and unique, and weathervanes are one of Great Britain's great eccentricities! So, to get you just as excited as we are about weathervanes, let's take a look at some famous ones, shall we?
Gallo di Ramperto
Weather vanes are an ancient tradition, with the earliest told-of taking place on the Tower of the Winds in Athens in Ancient Greece – though the oldest that we've seen is the "Bronze Banner" – a relic left behind by the Vikings that was unconvered by archaeologists a few years ago. However, the oldest weather vane that we can still see is this one – il Gallo di Ramperto – the Rooster Ramperto. Perhaps the basis of the traditional cockerel weather vane design, the Gallo di Ramperto, is thought to have been built between 820 and 830 in Brescia, Italy, in which it lived upon a church tower for more than a thousand years until 1891, when it was removed and placed in the Museum of Santa Giulia where it can still be seen, at the grand old age of 1,194 years old!
Old Father Time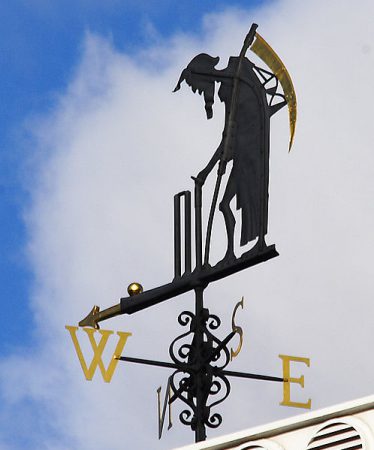 Old Father Time is a chilling reminder of the universe's one inevitability; the constant and unstoppable flow of time. The sickle in his hand links him to another, more "grim" allegorical character, reminding us of what awaits all of us when our time has run out.
Also, he's removing the bails from the wickets in a game of cricket.
Yes, the chilling figure of Father Time doesn't watch from a clock tower in a churchyard as one might suspect, but from atop the Mound Stand at the Lord's Cricket Ground in London. Despite his unsettling presence, Old Father Time is actually a witty play on words of Law 16(3) of the Laws of Cricket: "After the call of Time, the bails shall be removed from both wickets". Geddit?
In 1969, Sussex and England cricketer John Snow wrote "Lord's Test", and poem about the weather vane, and despite Father Time being the patriarch of impermanence and the idea that nothing lasts forever, this weather vane has proven the contrary. Given to the cricket ground in 1926 by its architect Sir Herbert Baker, Old Father Time fell from atop his original perch during the Blitz, and after being repaired, was damaged again in 1992 when he was struck by lightning – upon which it was repaired by Blue Peter.
The Tío Pepe Weathervane
Tío Pepe – yes, like the wine. The Tío Pepe wind vane in Jerez, Spain is in the Guinness Book of World Records as the largest working weather vane in the world! But what does it have to do with Tío Pepe? Well, the weather vane was originally established as an advertisement for Tío Pepe sherry. Subtle. That said, there's a ship-shaped (literally) weather vane in Michigan, US that claims to be bigger, though unfortunately for the Americans, Guinness are only looking for working weathervanes. That said, looking at our next weather vane, it might be argued that Guinness simply haven't been paying enough attention to the world of ornamental wind gauges…
An actual Aeroplane…no, really!
A bit much, no? Well give us a minute to explain the concept here. The Douglas DC-3 is the most significant transport aircraft ever made. Built in the United States during the Second World War, the DC-3 revolutionised modern passenger aircrafts, kicking open the doors to the entire world through way of air travel! Were it not for the DC-3, our modern-day holidays to Spain may have been a lot trickier, and possibly reserved solely for rich people! But where does the weather vane thing come in? Well, an actual DC-3 takes pride of place on top of the Yukon Transportation Museum in Canada, serving as a functional wind vane! Does the grandfather of modern aircraft deserve its place on the highest point of a transportation museum? We think so.
Oh, and as for that record? The DC-3 only requires 5 knots of wind to work… so come on, Guinness, get your tape measures out!
The Red-Robin of the Cuckooland Estate
Flying a little further from the radar than some of the weathervanes in this article, the Red-Robin Weathervane of the Cuckooland Estate currently dons the fiction home of Zebarella's castle (on the tallest tower of the right-wing, since you ask). We know what your thinking.. A robin? Not a Cuckoo? Well, Yes. Did you know that Postmen – the very men whom we depend upon the deliver your wonderful Cuckooland orders – used to be called Robin's because of their red tunics? Robin's are also commonly voted as the most popular of all the British birds, just like our own Zebarella.
If our list of famous weather vanes has inspired you to take your place in this grand, historical tapestry, be sure to check out our selection of quirky and unusual weathervanes! Cuckooland stocks a wide and unique range of quirky weathervanes for houses big and small. All handmade! We also make bespoke weathervanes too- any design you can dream up we can make. Now there's a challenge for you! Check out the link above. Its an adventure in itself.
BROWSE OUR COLLECTION