The Best Bunk Beds For Creative Sleepovers
For some kids, the sleepover is the most important social event of the week. Not only do these cool kids need to carefully think about entertainment; PS vs Xbox, DVD vs Karaoke sing-a-long. But they also need to carefully consider refreshments, topics of conversation and getting rid of annoying siblings for the night. But what really makes or breaks a good sleep over if of course the accommodation. With the likes of Three In A Bed and Hotel Inspectors putting more and more pressure on kids to provide the best for their guests, it can be a bit much for some. But fear not little hoteliers, we have a list of
bunk beds
so fantastical, it will leave your friends wanting to stay over every weekend!
The Pink Camper
For all you cool chicks the pink Camper Van bunk bed is definitely a must-have! This mini hipsters dream bed comes complete with a door that shuts, surfboard style ladder and the coolest paintwork finish. Match this with some laid back throw cushions and you have a bed which will be next weeks hot topic of discussion in the playground. So the only question you will be left with is who will I invite to next weeks sleepover?
The Popular Kid
Sometimes it's just too hard to choose who to invite to a sleepover. When you have far too many friends and not enough floor space the Kids Bedroom 3 Tier Bunk Bed is your best solution. This awesome bed in made of solid pine so it can take a lot of jumping from guests. The only decision you will have to make is which bunk do you want to sleep in?
The Awesome Treehouse
Have you ever wanted a Bart Simpson style treehouse to do all your entertaining in? The problem with a treehouse in England is it rains a lot! But how about your own treehouse bed?! This luxury kids bed features a top cabin with open window, slanted ladder, rope ladder and there is an area below where you can add a mattress for guests. The
Treehouse Bunk Bed
is perfect for all your important social gatherings.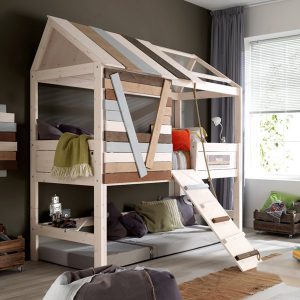 The Bus Bunker
For a truly spectacular bed look no further than the London Bus Bunk Bed. This awesome bunk bed features an open top bus bunk and lower deck. It even has it's very own cool ladder up to the top bunk. With such a cool bed you will need to allocate tickets to all of your future sleepovers.
The Four Poster Bunk Bed
Every little girl deserves a little bit of luxury and so do her guests. The Freebird four poster bed is a stunning bed featuring four high posts, soft canopy and large under bed area which can be used to create a guest bed. This four poster bed is a stylish addition to any little girls room and will make sleepovers extra special.
The Cool Caravan
You just don't get cooler than the Caravan Bed. This quirky and unique bed features internal shelving, a closing door and best of all, a bed underneath which pulls out making it ideal for sleepovers. The ultra cool Caravan bed is available in 20 brilliant colours so it's sure to match your bedroom too.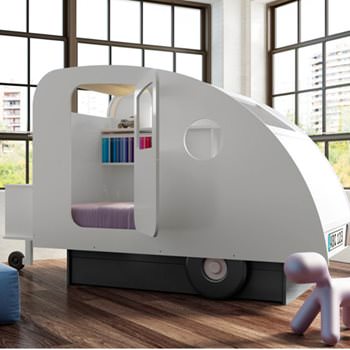 The Girl Scout Hut
For any girl involved with scouts, brownies or any form of group this is the perfect bed. This unique kids bed features a top cabin with open window, slanted ladder, silver sparkle curtain and a mattress can be added to the lower deck to create a place for guests. This super cute bed is the perfect addition to any girly haven.
A Place to Hang Out
All little girls need a little space to hang out with their friends and dolls which is why the Hang Out Kids Bunk Bed is so popular. This luxury bunk bed features a top cabin with window, inner two-step ladder, bottom bunk and pull out drawer. This drawer can even be converted into a third tier guest bed for extra guests.
Sleeping In The Trees
If you prefer a chimpanzees tea party to a princess sleepover, this is the bed for you. The Tree House Bunk Bed is perfect for having a few friends round to stay. The tree house features shelves to store your favourite toys and pictures and comes in a wonderful choice of colours.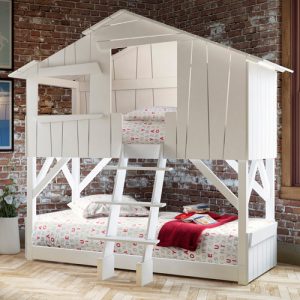 Our dream-team bunk bed experts are always on standby to answer any questions you may have – simply call us on +44 (0) 1305 231231 Mon-Fri 9-6pm or email
customerservice@cuckooland.com
and our super friendly team will reply immediately.