Happy 5th Birthday to us!
Last month, Cuckooland celebrated our 5th birthday! To mark this momentous occasion, we held a party in our head offices at Mey House, which, in true Cuckooland style, was filled with games, gifts, party food and an incredible cake by The Wonky Cake Company. Here are some (completely not staged!) photos of us having fun: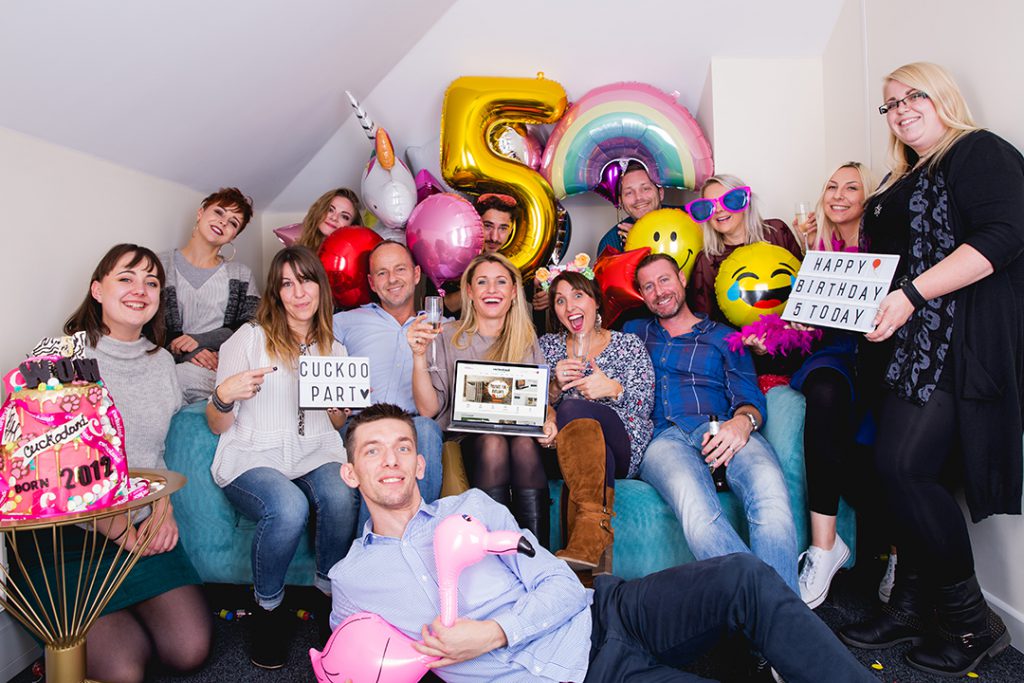 But what happened, we hear you ask, 5 years ago, when Cuckooland was a mere glint in our eager directors' eyes? Who started it, and how did we make it this far? Well, put your iKettle on, make us a cuppa and settle in – we're going to hand over to Alex, to tell you the story of how it all began…
Once upon a time (2012, to be precise), Russell and Nathalie Davis, and myself (Alex Ledsham), sat around our make-shift office in an old outbuilding in Kent, and thrashed out ideas of what our business would be. Eventually, we decided we would build an online lifestyle emporium, that was focused on providing outstanding customer service, great company culture for our staff, and selling incredible and unique products – initially in the gift market.
Excitedly, we began designing and building the website with a web development company from Nottingham, and started selecting products. After a lot of deliberation, we decided to move the business down to Dorset before we went live. We found a perfect start up office in Poundbury and hired our first member of staff to help get the site over the line. We also found a great distribution partner in Swindon who would hold our stock, and ship across the globe. Cuckooland was born in October 2012, and we were all so excited – but the stark reality of starting an online business is that when you go live, it's only your friends and family that visit the store. It was tough, and we had to learn fast.
Our first breakthrough moment came when we hired a PR agency, who managed to get a few of our products in national newspapers in time for Christmas. The sales were incredible and for the first time, we knew we had the makings of a successful business. Then, January came, and our high hopes were slashed again with a very quiet spell. We tried everything we could to get visitors to the site, but it was clear with the average order value of gifts, we simply wouldn't be able to sustain the business costs for much longer
After more deliberation, we decided we could also sell incredible products in the furniture market, and started with kids' beds. One of our first products was the Treehouse Bunk Bed by Mathy By Bols, and we took an order for over £10,000 to New York for three of these beds. Considering our average order value was £45 before, we realised we were onto something! From there, we expanded on the range, and the business began to grow very fast. We moved into larger offices in Mey House, where the team has grown to 15 of us now.
Today, the Cuckooland website is a magical world of unique furniture, homeware, niche gifts and all things wow and wonderful – the kind of products and surprises customers love. True to our original ethos, the vast majority of Cuckooland.com products represent "cuckoo" (unique and unusual) versions of popular products and themes. 

To date, Cuckooland has generated £7.5 million worth of sales, has more than 40,000 customers worldwide, and has been growing at over 100% annually. Being owner-managed and ethos-driven means that customer service is our top priority – our mission is to source original products of the highest quality, so that we can offer our customers a fun, unique and stress-free "Live in the Wow" experience. We are dedicated to transforming the homewares market, and confident the business will continue to go from strength to strength over the next 5 years and beyond!
So, there we have it – the Cuckooland origin story. It almost brought a tear to our eye. Now, we're off to finish off the last of the cake, inspect for wrinkles and drown our sorrows at being closer to 10 than 0 – gulp!