Meet Caroline van Velze, Creative Director @ Zuiver
This week, we caught up with Caroline van Velze, Creative Director of our favourite Dutch interiors brand, Zuiver. Since its creation in 1998, the Zuiver brand has become synonymous with affordability and design, always in sync with the latest interior design trends. As Creative Director, Caroline spends her days designing fabulous new additions, all with the famous Zuiver twist!
Tell us a bit more about Zuiver – what would you say is your biggest achievement so far?
Caroline: In 1998, we started our business with four high school friends – myself, Richard Halberstadt, Jaap Landsaat and Arjen Lubbes – all of us from the 'Zaanstreek' area of Amsterdam, which is now home to the Zuiver headquarters. I think it's an achievement that after nearly 20 years, we are still working together and we are still able to motivate and inspire each other! The Zuiver brand has won a number of prizes, including the 'Zaanse Ondernemingsprijs', a local entrepreneur award, in 2015, and the business prize of North Holland in 2016. However, I think our biggest achievement is how we are conquering the world with our own designs – 60 countries so far and counting!
We know that you travel the world looking for inspiration for Zuiver – are there any people or places in particular that inspire you?
Caroline: Inspiration can be found anywhere. This might sound vague, but it's true! I work extensively with product developer and associate Richard Halberstadt. Together we travel all over the world, from China to the south of Europe, where we get lots of inspiration. But it can also be found closer to home, simply by walking our 'company dog', Bras (secretly he is Richard's family dog, but our headquarters are his second home). Sometimes we walk Bras up and down the dike bordering the North Sea Canal near our headquarters and fantasize about new tables. Or one of us eats in an inspiring new restaurant in Amsterdam and suddenly thinks up the perfect counter chair. But out of all places to find inspiration, Hong Kong is my favourite. Here inspiration is to be found 24/7, in both the Old Town and the hypermodern shopping malls, or at one of the many beautifully styled restaurants, such as Mott32.
And, of course, we get inspired by young talent. Our Albert Kuip chair, for example, was designed in collaboration with design duo APE. We wanted a Zuiver moulded chair for some time when we decided to look for young design talent to create one with us. Talking to and working with the 'next generation' is inspiring. And it worked – the Albert Kuip is a big hit!
Your home is beautiful, and (unsurprisingly!) full of Zuiver products. Do you have a favourite room?
Caroline: YES! My home office slash bedroom is my favourite. Here my style is truly represented. I love colours like black, dark grey and cognac, and I like to combine old and new items. In this room, you will find brand new Zuiver and Dutchbone (Zuiver's sister label) products, but also samples – products I've designed but that did not make it into the collection for some reason. I take them home because I cannot part with them yet. In this room, you'll also find my father's old desk. He was an entrepreneur and I remember how he worked at this desk. And now I work at this desk. My mother is also represented here. The paintings above this desk were made by her, my sister and me.… it's a room full of valuable family and Zuiver memories.
What trends should we watch out for in AW17? Can you give us any spoilers? (Please!)
Caroline: Well, I've got some for you and the first is tropical inspired! For (late) summer and early fall 2017 you'll be very on-trend if you incorporate palm leaves, palm trees, cacti, flamingos, parrots and feathers from tropical birds. This winter we're going to long for darker colours like black, graphite, orange and dark green. The fabrics we will use are super-soft and velvety. We are going to see lots of dark coloured woods used in chair and table legs. And we will still need plants like palm trees, in big black planters or otherwise incorporated in fabrics and prints. We'll be seeing old carpets as in our grandmother's house, and wallpaper with 70's prints. What does this mean for the Zuiver collection? Velvet chairs, black lamps, blue pillows … stay tuned!
Your schedule designing and promoting Zuiver must be hectic – when you get downtime, what's your idea of the perfect Sunday?
Caroline: My perfect Sunday … That definitely involves a good stroll around Amsterdam, my home town. Almost every Sunday I go shopping with my daughter. Often it is mainly 'window shopping' and a hunt to spot new stuff, clothes, shops or eateries. We go by bike to parts of Amsterdam that aren't so familiar to us yet. And from there we simply shop till we drop. The dropping part is usually done in a nice coffee bar and preferably in one that has Zuiver chairs 
If you could have any superpower, what would it be?
Caroline: L.O.L! As a super woman, I would inspire and help young women to start a successful business. I was recently awarded Best Businesswoman of the Year in a regional election – a huge honour and one that made me realize, for the first time, that it is important to inspire young women to dream big and go for it. And since I'd be a super woman, in between all that coaching, I would launch a third label and design hotels and restaurants and… and…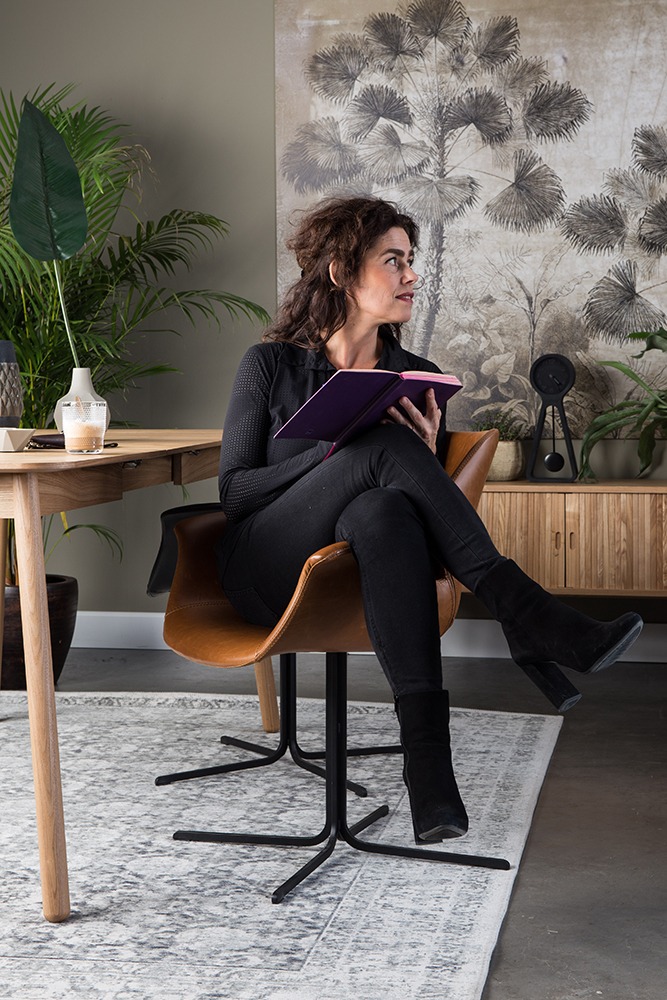 What are your current favourite Zuiver products (sorry, we know this is a tough one!)
Caroline: That is a tough one indeed, because, obviously, I like every Zuiver item! Otherwise it wouldn't be in the collection. But, gun to my head, I'd choose marble table set White Stone. This table has a nice story that started several years ago. Every year, my design team and I go to Paris and Milan to hunt the trends. During one of our trips we saw some young designers beginning to experiment with marble. Nowadays, it is hard to imagine, but until then marble wasn't to be found in modern, trendy, design. Then and there I fell in love with marble, and back home we designed tables White Stone at top speed. But when they were finished, and our warehouse was jam-packed with white marble tables, nobody wanted them! It took a year before people were ready for them, but then suddenly they were a hit and we kept on making new ones. Since then, we've incorporated a lot more marble items into our collection too. But after White Stone, I find it a challenge to be right on time with on-trend materials and products!
To see the entire collection by Caroline and her creative team at Zuiver, click here. If you have any questions about the Zuiver range or any interior design queries, please call our friendly team on +44 (0) 1305 231231 or email us today.