Top 3 Healthy Recipes for the Lotus BBQ Grill
All the Health and Wealth to you – if only we had a penny for every time someone put this in a card! It's a bit of a moot point really because naturally with Health comes immeasurable Wealth… right? Get Healthy, because healthy body = healthy mind= success (Yeah!). So to recap, the formula is a Lotus BBQ Grill + Healthy Recipes = Healthy Mind & Good Looking Successful Person (Yeah!).
Here are our Top 3 Healthiest Recipes for the Brilliant Lotus BBQ Grill:
If you're planning on a picnic, day at the beach or excursion a good tip is to prepare the Marinade or Vinaigrette before you leave the house (they keep for quite a while, so these could even be prepared before you go camping/on holiday and are great to use with other recipes and dishes!).
All Recipes serve 4 and come with a warning of seriously tasty and extremely moreish!
Norwegian Salmon Japanese Style on a Bed of Mango & Cos Lettuce
Ingredients:
4 x 200-300gram Fillets of Salmon (preferably Norwegian or Scottish). 100% Fresh- should look like this (right):
(Look at that beautiful grain!)
One Large Ripe Mango.
One Cos Lettuce.
Marinade: Rice Wine Vinegar; Two Fingers Crushed Ginger; Two Whole Limes Squeezed; Large Handful of Freshly Chopped Coriander; Two Spring Onions Sliced Fine; Large Glug of Soya Sauce; Dollop of Organic Honey (optional).
Keep Salmon, Mango and Lettuce to one side and mix all other Ingredients together in a Bowl and then split Marinade into two Bowls. Marinate Salmon in one bowl for 20 minutes (will 'cook' slightly in the lime juice which is what we want).
Place Salmon on Piping Hot Lotus Grill and Grill for two minutes a side. We like our Salmon Seared and not fully cooked.
Place Seared Salmon Pieces on top of Sliced Mango and Cos Lettuce and pour remaining Marinade over.
Wicked!
Tuna Steaks with Homemade Lemon Vinaigrette
Ingredients:
4 x 250gram Tuna Steaks.
Hand Full of Fresh Rocket or Watercress
½ Teaspoon Sea Salt; ¼ Teaspoon Ground Black Pepper.
Vinaigrette: 2 Tablespoons Extra Virgin Olive Oil; 2 Tablespoons White Wine Vinegar; 1 Lemon- juice of lemon, finely grated zest of lemon and zest strips for presentation; 1 Small Shallot- finely diced; 1 Teaspoon Dijon Mustard.
Whisk Vinaigrette ingredients together and coat Tuna on both sides.
Grill Tuna on Piping Hot Lotus Grill for about 7 minutes a side. Please don't overcook; it's far tastier having the Tuna slightly raw in the centre!
Serve Seared Tuna warm with Lemon Zest Strips and Side Salad of Rocket/ Watercress.
Tip: Use Vinaigrette to splash over Tuna and Side Salad.
Herbed Chicken with Grilled Corn on the Lotus
Ingredients:
4 Boneless Skinless Chicken Breasts each approx. 175grams.
4 Fresh Corn Cobs, leaves and silk removed.
50g/2 oz Unsalted Butter; 2 Garlic Cloves- minced or chopped; 2 Tablespoons Extra Virgin Olive Oil; 2 Tablespoons Mixed Herbs of Rosemary & Thyme; ½ Teaspoon Sea Salt; ¼ Teaspoon Ground Black Pepper.
Mash together Butter and Garlic and keep for the Grilled Corn.
Lightly Coat Chicken with Olive Oil then season with Herbs, Salt and Pepper.
Grill Chicken over good Medium Heat for approx. 12 minutes turning until cooked through (meat firm touch and opaque to the centre). At the same time Grill the Corn for 10-15 minutes, turning occasionally.
Remove Chicken and rest it for 3-5 minutes until Corn is ready.
Spread Garlic Butter over Corn and serve with Herbed Chicken.
Cornucopia! To your good health!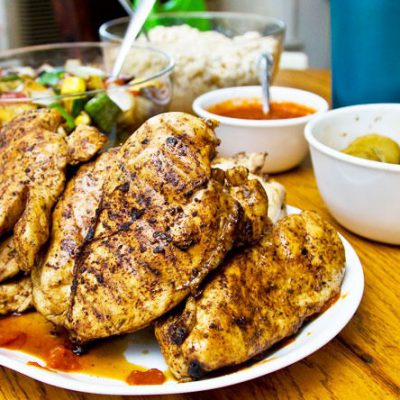 Its time to share! What are your favourite BBQ recipes for this summer? Share your tips in the comments section below.
If you have any questions regarding our lotus BBQ range then call our happy help-line on +44 (0) 1305 231231, or email us at customerservice@cuckooland.com.