7 Benefits of Choosing a Toddler Bed
Being there for your baby, day and night is what characterises the first phase of parenthood. You want them at your side, wherever you go, feeding and cuddling them and laughing into those precious eyes (let's forget the sleep-deprived pressure pot blow outs for now!). Yet the time must come for a child to transcend their cot or crib, giving them a little independence that will follow them into the toddler stage. When they're ready, your munchkin will need a bed of their own, and that's where the decision and choice gets a little tricky – there are just so many options available, from cot conversions to twin sleepers to full sized single beds. Here's where we can help because not only do most parents (who are customers of ours) prefer that first big boy or big girl bed to be a
toddler bed
, but we here at Cuckooland (most of us being parents ourselves) highly recommend it too! Here are seven cleverly thought out reasons why we do: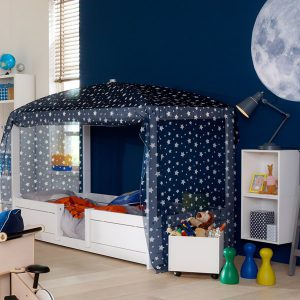 1. They're easier to accommodate
As much as we'd like every family to have their own palace, in reality, we are constrained by the space we're given. Apartments, studio flats and modest houses may not have the room for a big nursery. Compared to a standard
single kids bed
(approx 75"), a toddler-based alternative (50"-60") cuts that mass down by at least a quarter. The bed will thus be far easier to build and shift depending on what else surrounds it. This means more room for your changing table, nursery storage and whatever other units might make up the landscape of the room.
2. More scope for playing on the floor
Along similar lines, you'll find that toys and play accessories won't be consigned to the living room. After all, the nursery should be a haven for growing explorers, and no parent wants to wade through the blizzard of a game in action when entertaining family or cleaning the house. The tighter dimensions of a toddler bed open up the floor of your
child's bedroom
, letting them stash toy boxes, play mats and bears wherever they choose. Only good can come of this, as you'll be teaching your youngster to care for their space while letting their imagination roam wild.
3. Cots can convert straight into them
We're always amazed by what our favourite manufacturers are able to do with long-term bed design. By this we mean the evolution of that initial bed purchase – one that scales up with your darling as they eat their greens, growing mightily with each passing month. If you're planning ahead for your little bundle, take a peek at our
Cot Beds
. With removable bed frames, adjustable heights, and gradually lessened security measures, these cots convert into sleepers that match a child's journey to toddlerhood. Families willing to get the most out of their money could do with a multi-functional unit that sets you up nicely for the next few years.
4. Enclosed surroundings
A definite advantage of toddler beds is how they keep remnants of a
crib
, such as bars, a high headboard and a protective outer surface. Children take a while to adapt to their newfound autonomy; having an enclosing frame makes the transition easier, reminding them of the snug confines of their cot. There's even more of a reason to take the punt if your child is an active sleeper. Toddler beds stop thrashing arms and legs from causing kiddies to roll onto the floor unawares, allowing you to rest assured that your little one is safe and sound at lights out.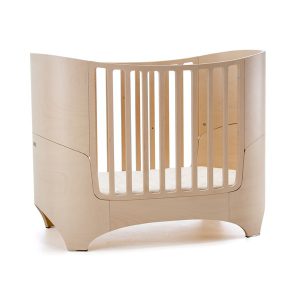 5. Oodles of themed imagery
Here's where things get truly exciting because it's likely that your mini-me has developed their own tastes by the time they reach three or four. Whether they fall into cars, boats, planes or princess paraphernalia, there'll be an astounding sleeper to encompass what they love, turning bedtime into an event they'll look forward to. Cuckooland's
toddler beds by Kid Kraft
are an ace proponent of what's so awesome about themed furnishing. They've come up with beds that put your wee monster right in the cockpit of a flying machine, as well as a fire engine or a royal slumber chamber. The 'WOW factor' is plastered all over these succulent feats of manufacturing.
6. Changing the sheets is easier
Your girl or boy may be a few heads taller than they were last year, but they still could be prone to accidents in the middle of the night. There's no escaping this, which is why you should strive for a toddler bed over its full-size equivalent. That's due to the swifter efforts you'll make to strip it bare. As any parent can tell you, doing such tasks will become second nature, so it might as well be as painless as possible. You're also able to co-opt crib bedding for the toddler model, saving you buying an additional
kids mattress
.
7. Low to the ground
As a last, defining feature, we'd like to remind you how low-set a toddler bed tends to be. Why is this important? Well, think about your child's snowballing talents – they're apt to be clambering into the covers on their own, unaided, a fact that'll bring you a sigh of relief when the evening arrives. It makes total, preparatory sense to invest in a special toddler bed that's just high enough to be different from a crib, yet squat enough to encourage their climb. We're sure that your little one will be empowered by learning to get cosy all by themselves.
So, those are seven benefits you simply must look in to at this crucial period of a child's life. What you provide for them now will set them in good stead for the future, including (we hope!) a fondness for rest and recuperation. For more help when your big boy or big girl is ready to make the leap into their big bed, call our child sleep experts on +44 (0) 1305 231231 or email
customerservice@cuckooland.com
and our super friendly team will reply immediately.