Creating a modern Scandi inspired kids room with Interiors Instagrammer, Suszi Saunders
Suszi Saunders, an Interiors Instagrammer living in London, is no stranger to dark interiors. From dark walls to patterned wallpapers, this is one home which isn't afraid to be bold.
When Suszi and her family moved into their London Victorian terrace two and a half years ago, Suszi set out to use only
vegan-friendly
brands to decorate their period property
.
Her incredible, glamorous home now has over 30,000 followers on Instagram and is on our lust-worthy list!
With a keen eye for stunning design it is no wonder that Suszi's home won a vegan home award at PETA's vegan homeware awards in 2018
.
After recently redecorating her son's bedroom, we caught up with Suszi to hear how she created a vegan, scandi kids room using the Oliver Day Bed
.
Redecorating Teddys Room – creating a lighter, fresher, scandi-inspired vibe.
We recently redecorated our son Teddy's room and are thrilled with the way it turned out. The amazing
Oliver Furniture day bed
from
Cuckooland
was our main inspiration and with that we wanted to create a lighter, fresher, scandi-inspired vibe.
We moved into our house two and a half years ago and since then have spent so much time and money doing it up. I am a huge lover of dark décor and most of our rooms are painted top to toe in dark grey / off black. For Teddy's room, we had opted for a super dark green but after just a couple of years we decided it wasn't working and it felt too dreary a colour for a kid's room. We still wanted a deep pigment for the walls and as Teddy's favourite colour is blue, we decided to coordinate a dark blue paint with accents of white and natural wood for a brighter look.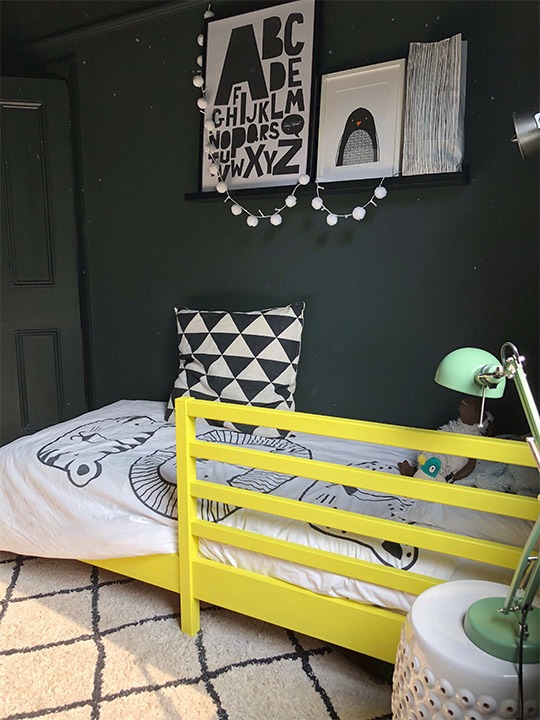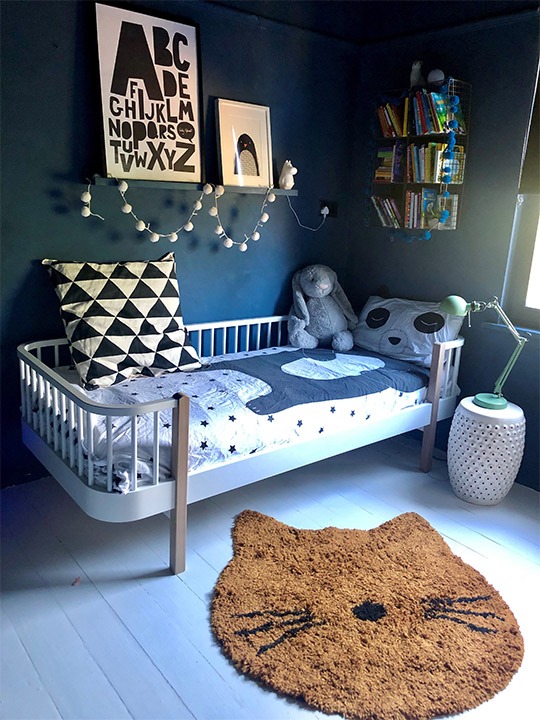 Being a vegan household, we are keen to seek out products that are free from animal ingredients as well as being eco-friendly. We chose a natural limepaint for the walls which is cruelty free and VOC-free. It's chalky, matte texture provides a beautiful backdrop for the white and natural wood Oliver Furniture day bed. We chose the bed because of Oliver Furniture's strong environmental ethos. We love that the bed is produced under fair, ethical and sustainable conditions, as well as being luxurious in design. The rounded corners set it apart from other beds on the market, and it provides a lovely Nordic touch to the room.
With the dark blue walls and ceiling, paired with the white bed and painted floorboards, I decided to add some monochrome accents with the bedding and the art work. Next was to decide on an accent colour and we found a beautifully soft, cotton rug in mustard. The colour compliments the blue walls and white floor, and the cat shape adds a bit of playful humour.
I always like to mix modern with vintage pieces, so for Teddy's toy box I found an old ammo crate on ebay. The natural wood ties in with the wood from the bed and fits perfectly under the book shelves.
When I set out to redecorate Teddy's bedroom, I didn't have a clear image of what I wanted. The beautiful bed was our starting point and everything just seemed to come together from there. Most importantly, Teddy loves his new room, and I can see him being happy with the look for many years to come.