Our climate is in crisis, and every positive action counts. At Cuckooland, we're focusing on how small changes in the way we shop can help our planet. Whether it's by using recycled materials, planting trees or sponsoring charities, many of our favourite brands are actively working towards sustainability and making a positive impact on the world.
So, when you shop with us, not only do you get a fabulous new addition to your home, but you're also supporting our wider home, Planet Earth!
Swyft are working hard to minimise their environmental impact. For every sofa sold, they plant one tree through the World Land Trust. They use FSC-certified materials in their production, and all packaging is made from recyclable materials, or biodegradable plastic.
Le Feu make, in their own words, the 'greenest fireplace on the market'. Their fires are powered by bioethanol fuel, a clean, smokeless and renewable energy source, with zero carbon footprint. They also plant a tree for every bio fire purchased – simply tree-mendous! 
Lifetime Kids received the Green Environmental Award back in 2004 for their responsible and environmentally friendly products. They use special selected sustainable wood from Northern Europe, where trees grow slow, which secures a high quality material to produce their beds. It doesn't stop there – they also use eco-friendly water based lacquer for a healthy and safe product. 
The Wild & Soft Foundation supports two wildlife charities: the Zonnegloed in Belgium (their home country), and the Cikananga in Indonesia. These sanctuaries help to look after and rehabilitate wild animals, that have escaped captivity or deforestation. 
SNURK's organic cotton bedding is sustainably manufactured in Portugal. The cotton is Oeko-Tex certified, meaning it's toxin-free, and produced in a water-saving way. They also operate 100% fair trade production, with no child labour (as you would expect!)
Panda London's bamboo bedding is organic, vegan-friendly and kind to the planet. Bamboo needs only a third of water that cotton requires to grow, and produces 30% more oxygen than hardwood trees. It can also grow up to an incredible 3 feet per day! 
The Ooni Impact Fund donates 1% of Ooni's annual turnover to environmental and charitable causes. They partner with Eden projects and 1% for the Planet, to plant trees for every oven ordered, as well as supporting social initiatives such as Slice Out Hunger, in the US.
Fab Hab's bright and colourful outdoor rugs are made from recycled plastic, that would otherwise end up in landfill. The rugs are GoodWeave certified, and are produced with adult labour, fair trade practices and no harmful dyes or chemicals.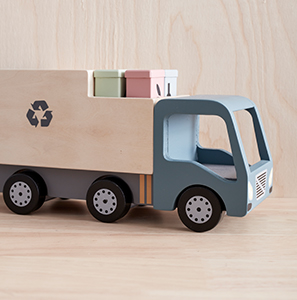 We've partnered with Clearabee to help you recycle your unwanted furniture. 
Starting from £39.99, Clearabee will collect old items from your home, process them at their Waste Management Facility, and then send you confirmation of the total amount diverted from landfill (typically 95%).