Yippee for Teepee Kids Furniture
We've gone cowboy/girl crazy here at Cuckooland over our teepee bed from Dutch designer Woood! Inspired by this ranch-tastic furniture, we have lots of coordinating designs that fit the theme – perfect for any child's bedroom.
"Bring the best of the Wild West into your home!"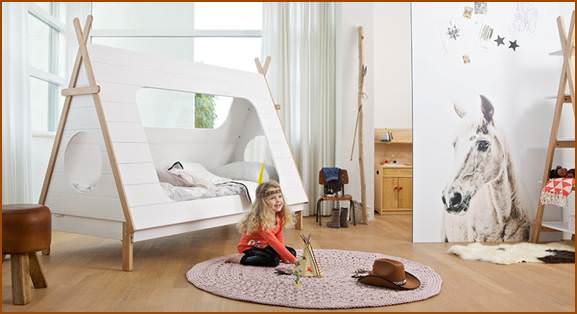 From Dutch designer Woood is this beautiful children's bed featuring a unique and on-trend teepee design. A great way to fuel their imaginations from the moment they wake up, kids will love re-creating scenes from their favourite Westerns and showing their room off to their friends. For the full effect, add in tipi tents, desks and bookcases to complete the look. Items can be bought separately, creating an affordable, neutral (and not to mention enviable!) environment for boys and girls alike!
Teepees originated as portable shelters used by nomadic tribes, and are most commonly associated with Native Americans. If you're looking for an adventure-inspiring children's bed with a slightly more fixed location, look no further than this stunning cabin design! The ultimate sleep station for mini explorers in the making, this bed is a wonderful way to bring a sense of the outside into your home. Made of solid, quality pine and white veneer, the neutral colour will suit any decor, and can easily be updated as your child grows and tastes change! Cuckooland donated this product to Canada and New Street residents and veterans as part of BBC One special programmes 'DIY SOS: The Big Build Veteran's Special.'
If you're in the market for a complete bedroom set, this funky Kiddy Tipi Desk compliments Woood's teepee bed perfectly. Giving them a desk in their room is a great way to encourage creative activities – not to mention homework!
Loop cactus fairy lights around the desk frame and hang artwork at the sides to really showcase your youngsters creativity!
Part of the Kiddy collection, don't forget to add the Tipi Desk to the furniture set! Featuring an open design, kids can proudly display their books, toys and trinkets. With extra 'branch' hooks there's a place for kids to hang bags and accessories… even their cowboy hat!
Modern, functional and beautifully designed, our Tipi collection has it all. Furthermore, Woood have over 30 years experience in the production of luxury kids furniture, so you can be assured of the highest quality for your little nomad!
Looking for more Themed Bedroom Ideas?
Here at Cuckooland, we have just launched our re-designed children's category, and now offer sectioned interior design ideas in a range of themes – from Astronaut and Princess, to Pirate and Jungle. If you're looking for inspiration to create the ultimate children's bedroom, view our new-look site here! Or if you just prefer to skip straight to the most incredible kids beds ever made we've got you covered here too.
Our friendly team is always on standby to answer any questions you may have – simply call us on +44 (0) 1305 231231 Mon-Fri 9-5pm or email customerservice@cuckooland.com and our super friendly team will reply immediately.