Encourage your kids' imaginations through bedroom furniture & decor
The Importance of Creativity
To the undiscerning adult, little Kelly's bedroom is – well, just a bedroom. It has its childlike adornments – a cute headboard lined with teddies,
a children's bed
, a doll's house in the corner that her brother's LEGOs have somehow ended up in, and a handful of toys scattered randomly about the room. In the centre of the room, on a neutral, light-pink rub, is Kelly herself, reading
The Very Hungry Caterpillar
to the reluctant cat, who has learned in recent years to just sit there and enjoy it.
But as soon as the grown-ups shut the door, Kelly's bedroom becomes a whole universe of wonderment and adventure! Toys come to life, dollhouses become real houses, and that tree-shaped wall sticker becomes an entire forest! And only she can truly know what the LEGOs are doing in the dollhouse. Now, at Cuckooland, we know how important your kids' imaginations are – that much-needed sprinkle of magic to both your lives is an essential stage in development. Imagination is one of – if not
the
most important aspect of childhood, and your child's room is where their imaginations will come alive the most often.
Themes and schemes
Let us ask the question, 'What is your child at heart'? When they're playing in their own little world of make-believe, what are the main themes that seem to come up? Maybe they're inspired by their favourite films or TV shows (Peppa Pig, we're looking at you), or maybe they're into the old "hero" archetypes – firefighters, cowboys/cowgirls, sailors and pirates. Find out what your child really loves and build their room around their imaginations to help expand their imaginary world! Really give them a sense of physical space by adding imagination-aids like playhouses and themed decor and furniture. When it comes to colour scheme, consider what fits with your idea of a theme, but also make a point of keeping a mood board of what you (or your child) would like in their room, this will give you a clearer idea of what colours and textures to go for and what to avoid. Keep it fun and exciting, but remember, it's still your house! If you're struggling for ideas, consider checking out our previous
blog post featuring celebrities' children's rooms for inspiration
!
Balance the technology?
There have been a number of studies recently on the effects of technology use in children, and parental concerns may be well placed. 72% of iTunes' top-selling "education" apps are designed for preschoolers and elementary school children, highlighting how the 'tablet revolution' is targeting our children. At a top level this may feel fairly intuitive; the more time a child spends in front of a screen the less time they may be spending developing their creative play skills. A discussion at
debate.org
counters this idea, however, highlighting how technology may, in fact, be benefitting our children's creative skills by providing access to a wider range of creative options (perhaps surprisingly only 27% of people thought that technology could be impacting their children's creativity). The jury appears to be out on this one, but greater considerations into the technology available in a child's bedroom could certainly assist their development. What do you think?
Share your thoughts in our comments section.
Keeping it simple
While your son or daughter's imagination is of the utmost importance when it comes to decorating children's bedrooms, it's important not to forget that it is, at the end of the day, it's your house! Kids grow up fast, especially during their early years, so it's important to consider the long-term implications that decorating may have on your house. By keeping it simple, you're making a long-term investment in your own home because, as your child gets older, you can more easily rearrange their rooms to suit them without doing any permanent damage – not only that but should you decide to sell your home, a neutral and sophisticated room will certainly look more appealing to potential buyers.
Check out the Mathy-by-Bols range
Built in Belgium with fun and imagination at the forefront of its design, the Mathy-by-Bols range of children's beds is certainly a top-of-the-range way – not just to aid your child's imagination by adding to their imaginary world – but to help put an end to some of the woes of bedtime by making the whole process more appealing! Imaginatively designed while maintaining a sleek and classy, modern appearance, the
Mathy-by-Bols range
is the perfect end to your child's bedroom adventure (at least until tomorrow).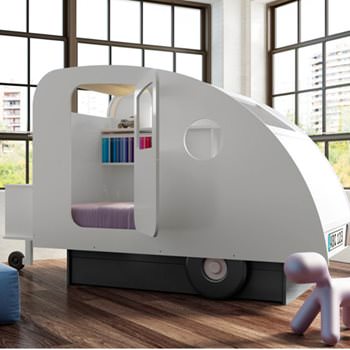 We know how important your kids' imaginations are to both them and yourself. Whether you're sitting back with a smile, watching them revel in the world you've created for them; or simply just giving them the creative space to develop on their own while you get on with the housework or catching up with
Coronation Street
, you can rest assured that with the help of our guide, your children's bedrooms will be stimulating realms where they can really be themselves! Our imagination creation team is always on standby to answer any questions you may have – simply call us on +44 (0) 1305 231231 Mon-Fri 9-6pm or email
customerservice@cuckooland.com
and our super friendly team will reply immediately.