School Exams and Positive Wellbeing - A Guide for Parents
With parents in a frantic mad dash to get those summer-enlivened kids back to school, planning for what's lies ahead this school year may be floundering in the back of your mind. So when you do finally have a moment to catch your breath, make a cuppa and brush up on what your kids can expect from this school year with our School Exams and Positive Wellbeing Guide for Parents.
Within our handy School Exams and Positive Wellbeing Guide Guide for Parents, we will take you through what kids can expect from the 2018/19 curriculum with a special focus for those who are sitting big examinations such as SAT's and GCSE's. Our guide also features tricks and tips to keep those extra hard working kiddies as stress-free as possible.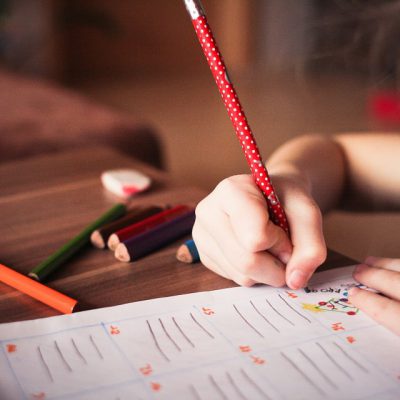 The national curriculum for schools has witnessed a lot of changes over the past few years. With the introduction of Phonics testing for Year One and SAT's for Year Three, there is now more focus on standardised tests than ever before. These recent shifts have allowed teachers to focus on key areas of learning, which over a child's full education, have beneficial purposes.
For many children, this year will bring their first ever homework assignments. From simple reading, to phonics revision and numeracy, even the littlest of learners will need a place to organise and complete their homework. When it comes to buying their first ever desk or workstation, your intrepid learners are guaranteed to feel oh so grown-up. At Cuckooland, we have a wide selection of Kids Desks, with suitable options for tweens and teens alike. A favourite of ours is the Spot Two Sided Desk in Acadia. This wonderful workstation is great in small spaces and can be accessed from both sides, which means it's perfect for siblings especially in a shared bedroom. There's storage aplenty with the Spot Desk in the form of two deep drawers and three central compartments. Product punt over, lets get to the meaty bits.
GCSE's or General Certificate of Secondary Education are the last standardised tests your child will take before embarking on a career or further education. The likelihood is that you, yourself, have taken some form of GCSE or O Level (which were replaced in 1988 by the GCSE system) in your teen years. GCSE's today have taken on some pretty radical changes and we're here to give you an insight into what your child can expect from their GCSE exams.
The core curriculum subjects continue to make up the compulsory side of GCSE's. These include:
Most schools offer optional subjects, which students can select to study for GCSE in Year 9. These subjects can vary depending on school but the following make up the usual subject areas:
Arts (including Art and design, Music, Dance, Drama and Media Arts)
Design and technology
Humanities (History and Geography)
Modern foreign languages (such as French or Spanish)
Business studies
Engineering
Health and social care
Leisure and tourism
Life skills
Manufacturing
Social sciences
PE
ICT
Religious education
Sex education
Careers education
Citizenship
When it comes to selecting their optional subjects, children are encouraged to think about what they may wish to study in higher education as this can provide the framework for college and university.
Your child will select their chosen GCSE subjects in year 9 ready for study to commence in years 10 and 11. This two year study period will include exams from the compulsory subject list above (English, Maths & Science). Students are able to select from the optional list above to make up the rest of their GCSE subjects. The amount of subjects a child can choose is usually down to the school. However, most pupils complete around 10 GCSE's which includes the core compulsory subjects.
If your teen is nearing those all-important GCSE exams you're probably aware of the changes to grading. If not, we've included the government's handy table below which explains the changes and how each grade/number is awarded.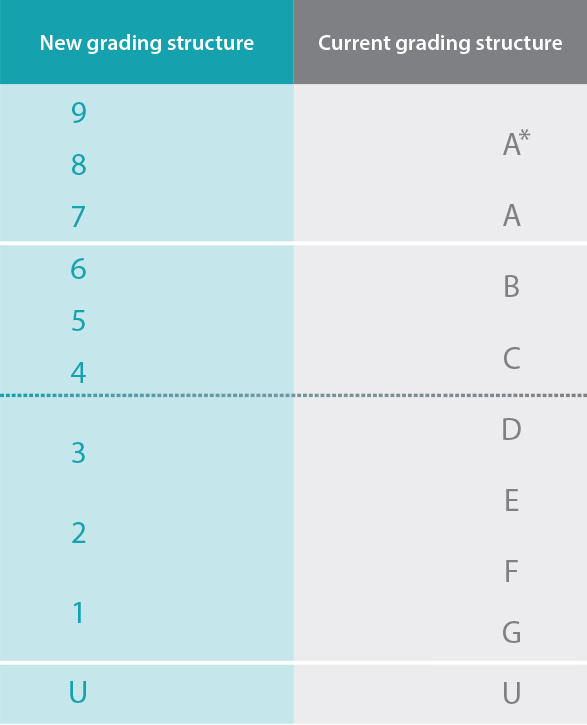 Why change GCSE grading?
The demands of employers and universities have changed significantly over the last decade. To help transition students into the new demands of work and study, GCSE's have changes to accommodate this. Each subjects content has been deemed as more demanding but still suitable and workable for the same wide range of abilities. The new structure gives a wider range of grades with focus on upper grades which has resulted in there now being three numerical brackets compared to the upper two grades of A and A*. The belief being that there is more to distinguish between students of varying abilities.
Are all subjects included in the new grading scale?
The entire project of grading reform has been a long time in the making, especially with planning, testing and implementation. Currently, all core subjects have been transitioned into the new scale. The completion date of the transition of all other subjects is Summer 2020 so until then, some optional subjects may still be graded in the traditional way.
How can I help my child prepare for GCSE's?
GCSE exam time can bring up some long forgotten anxieties for parents. That being said, who better to help prepare your child for GCSE's than someone who has already been through them?
Whether it's awesome parents on hand to help with revision, or that brilliant teacher who always took time to provide extra help; having a grown-up about to lend some emotional support when it all gets too much can be a real lifeline for kids.
GCSE prep can start as soon as the school year does. We have some handy tips below to help provide the kind of support your child will need when it comes to GCSE revision and exams:
Hash out a revision timetable. Be there to ensure that your child doesn't create an unrealistic timetable littered with stress. You can even download a revision timetable app courtesy of

Goconqr

.

Remind them to focus on small chunks of revision instead of hour-long periods.
Explain the importance of taking breaks between revision periods.

At the start of the year, sit down with your child to review all the books and materials that they will need for the year ahead.

Teach your child how to use

memory techniques

to condense revision notes onto revision prompt cards.

Take you teen on a stationary shopping spree to get the essentials and maybe some none essentials to make it more fun.

Have informal chats with your child about how they feel revision is going.

Listen to your child about concerns they may have and work together to find solutions.
At this crucial point in your child's education why not shift the focus a little and offer to upgrade their workspace? A desk makeover can make your teen feel like they are facing this new chapter with new tools. The Max Contemporary Desk by DeEekhorn is a great desk to help tackle that GCSE revision. This stylish desk has two shelves and two compartments for stationary, not to mention its brilliant compatibility with laptop and desktop computers.
A Levels (Advanced Levels) are the optional further education qualifications gained after GCSE's. A Levels are usually undertaken in a college setting. However, many schools and academies now double up as a Sixth Form and can offer A Levels within the familiar surroundings of a secondary school. A Levels last for two years and are usually taken by 16-18 year olds. That being said, as A Levels are a form of further education, anyone who has completed their GCSE (or willing to retake them) can apply for A Level study. A large number of colleges offer a further education program for adults too.
How many A Levels?
Most A Level students chose five A Level subjects within the first year and scale this back to three A Levels in the second year of study. This allows for students to have greater control and understand of their chosen topic, which they may wish to pursue at a degree or career level.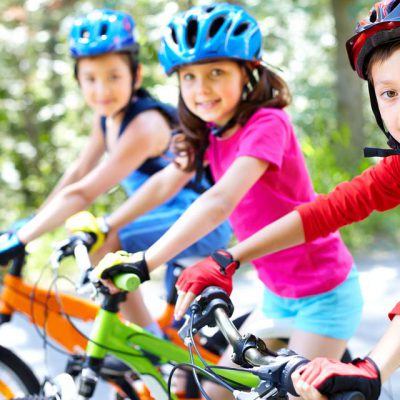 Above all, our children's health and mental wellbeing should come first. With so many crucial tests and milestones now packed into the national curriculum it has never been more important to make sure those little brain boxes are well looked after. It's worthwhile to note that kids facing exams still need to focus on having a good amount of rest, time off from learning and to have fun and just be, well, just be kids!
With so much focus on those big exams remember to include the following in their day-to-day routines:
Good Eatin'
Ensure your child eats well, has regular meals, healthy snacks and drinks plenty of water. The occasional treat shouldn't be discouraged but there is a strong correlation between higher levels of stress and poor diet in children. Simple meal plans and healthy snacks left out for your busy beaver will help strengthen their grey matter.
Sleep Well
When it comes to sleep, kids aren't always on the same page as parents. Many like to stay up late and sleep in 'til midday! When it comes to exam time, we should teach kids the importance of good sleep hygiene. From reduced screen time after a certain point in the evening to a set routine for winding down before bed, it all contributes to better sleep.
Get Them Out and About
Getting out in the fresh air for a walk does wonders for the heart, brain and soul. Many kids can become so focused on revision they're practically hermits. It's important to remind your child to take regular breaks and regular walks outside. The health and mental well-being benefits speak for themselves.
Plan a Trip
The light at the end of the exam tunnel may not always be present, but a planned trip will be. Why not plan a trip they've always wanted to take after exams are over? It could be a trip to a theme park, famous landmark, festival or even a holiday. With something fun on the horizon, your child will always have something exciting and positive to look forward to.
Friend Fest
Kids are sociable creatures and should be encouraged to spend time with friends as well during this time. Have them plan sleepovers, trips to the cinema or just a walk through the local park.
Here at Cuckooland, we're always on hand to help you manage those all important milestones when it comes to children, be it newborn or teen. If you have any questions about getting your kids bedroom ready for exam season, simply call us on +44 (0) 1305 231231 or drop us a line at customerservice@cuckooland.com and we'll gladly point you in the right direction.