How to De-Clutter the Kid's Bedroom Before Christmas
Kids' bedrooms can be a real challenge to keep tidy, this comes as no surprise as their bedroom is often a room that wears many hats; a place to sleep, a play area, a study space and home to countless toys, books and gadgets! It's no wonder they're prone to getting a little disorganised!
As we edge towards Christmas, now is the perfect opportunity to tackle those unwieldly kids' bedrooms and with lockdown number 2 now underway, you may just find you have the time on your hands to get in there and have a therapeutic sort out!
Before you dive in, bin bags at the ready, I thought I'd put my tried and tested de-cluttering skills to use (oh yes, I'm quite the queen of de-cluttering!) and share a few top tips for how to de-clutter your kid's bedroom – without initiating world war three!
While it may be tempting to tackle this job alone, involving your child will give them a sense of ownership over the task and will hopefully encourage them to keep their room tidy! (You can only hope!).
2. Start by removing things that don't belong in their bedroom
Kids' bedrooms seem to attract a whole load of paraphernalia that doesn't belong – so begin by sorting out what needs removing from their bedroom, this could be rubbish or items that need putting back in their rightful homes (such as cups, that odd wellington boot you've been hunting high and low for, soggy bath towels and other contraband they've been hoarding!).
3. Sort belongings into piles; keep, donate & throw away
Work with your child to sort what is left in their bedroom into organised piles, such as a "keep" pile, a "donate" pile and a "throw away" pile. Sometimes children can feel overwhelmed with the sheer volume of their belongings; however, they may also feel like they need permission to let go of things they don't want anymore.
Broken items (that cannot be fixed) or toys that have missing pieces should be thrown away (check if any parts can be re-cycled) as unfortunately they cannot be donated.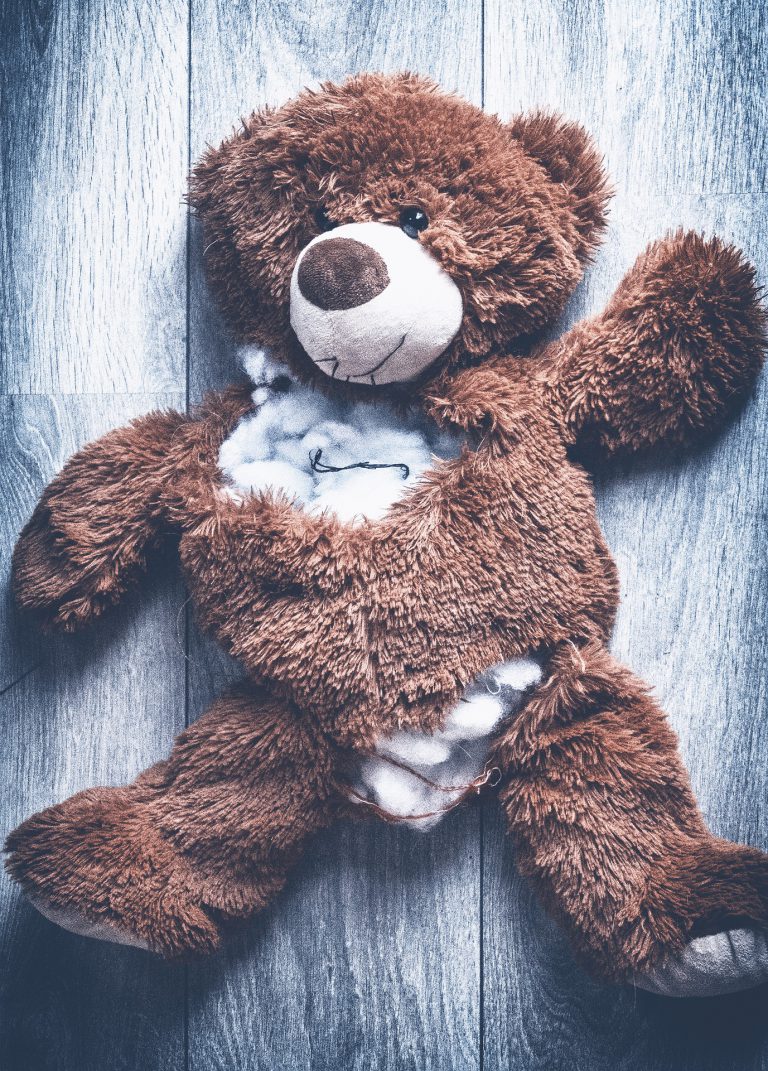 4. Help your child embrace letting go of things
Donating items can be a positive experience as your child will feel they are giving their belongings a new home rather than just getting rid of them. Help them to embrace letting go of outgrown toys, by explaining that another, younger child, may really appreciate it.
Both clothes and toys can be donated to charity, you may need to check with your local charity shops as COVID-19 has affected how and when you can donate, especially now we are in another lockdown.
Now that you have purged their bedroom of all things to discard or donate, all that remains needs to have an organised and tidy home. Smart kid's storage is worth its weight in gold in helping to keep your kid's bedroom clutter free. I'm a particular fan of Vox for cool, yet practical storage.
Younger kids will love keeping their books and toys well organised in the Vox Tuli Bookcase and Toy Storage, available in pastel green or white, this small storage unit is the perfect height for little people. With easy to access open compartments and handy labels so they'll know where to put their things when it's time to tidy up.
Older kids will love the modern vibe that comes with Vox Concept, a collection that includes everything from a kid's single bed to practical storage such as these Vox Concept Chest of Drawers and the Vox Concept Wide Bookcase, both shown here in the oak effect finish, they are also available in a selection of 5 other finishes.
Cuckooland have plethora of cool kid's bedroom storage available, from the affordable Kiddy Wooden Toy Box to more luxury bedroom storage from Oliver Furniture.
6. Encourage kids to keep a tidy floor
We've all been there, it's the end of a long and tiring day and all you want to do is get into your jammies and jump into bed… leaving behind a trail of destruction on the floor! Yes, I'm guilty of that too (my head is hung in shame!)
Once you've meticulously cleared out all old, outgrown and worn out clothing from your kiddo's bedroom, help them to keep what remains off the floor and well organised with either a kid's wardrobe or a children's clothes rail as shown here.
Another really useful piece of bedroom furniture for keeping your kid's floor clutter free is a trundle bed, which is a kid's bed with an under bed drawer (that can also be used as a guest bed when you add a mattress), as seen here with our bestselling Dennis Kid's Single Bed with Optional Trundle Drawer.
7. Cool Cabin Bed for a clutter free kid's bedroom
The ultimate bed to help your child keep their bedroom clutter free is a kid's cabin bed – they are the king of kid's storage beds!
Younger children are best suited to a low profile cabin bed, which offer ample storage without you fretting about them climbing Mount Everest to reach their bed! Look for designs like this Julian Bowen Jupiter Midsleeper Bed which provide a selection of storage such as shelving, cupboards and drawers and a secure sleeping platform.
Older kids will love the flexibility offered by a high sleeper cabin bed such as the Vox Nest Kids Cabin Bed which presents a variety of under bed storage options, such as a study desk and clothes rail.
8. Set an example to your kids
It's a well known fact that children mirror what their parents do (gulp…), so it goes without saying that leading by example is important if we want our kids to embrace keeping a tidy bedroom!
On this note I shall delve back into my Marie Kondo book… the true queen of de-cluttering, didn't I mention I'm actually still a novice?!
However you decide to embark upon the great pre-Christmas kid's bedroom de-clutter, I hope you manage to do it will a smile and some festive cheer. If nothing else, it will give you something else to focus on other than a global pandemic!
For more de-cluttering tips or advice on the best kid's storage to keep their room in ship shape, our orderly customer service team are on hand to pick up the phone +44 (0) 1305 231 231 or to answer your email inquiry.