When is it Time for a New Kids Mattress?
Ensuring your little one has a good night's sleep is essential for encouraging their happiness. Well-rested children can learn better at school when they receive enough zzz's – meaning that the money you invest in their mattress will pay dividends for their development.
After a fun day of play, they'll climb into their comfy bed to hear a bedtime story and settle down for the night (… hopefully). But, after you leave their room, you want to rest easy knowing that they'll be able to get the very best night's snooze.
The condition and age of their mattress can make or break a good night's sleep. So it's worth looking out for those telltale signs that it's time to replace it with a newer model. New materials and construction methods are your best friend here, and as you'll see, we have the very best in kids mattresses to choose from.
Let's now explore the signs that it's time for a new kids mattress.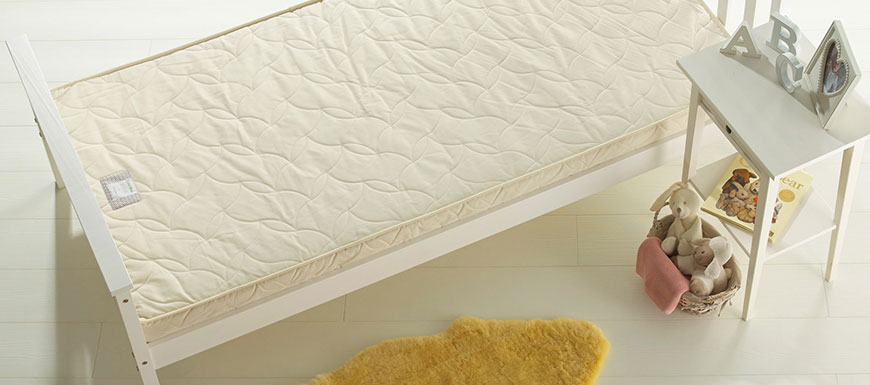 1. Their Mattress is Sagging
You'll know from personal experience that a sagging mattress is never conducive to a good night's sleep.
This signals the end of the mattress' life – and is likely to stop your child from getting to or staying asleep as they turn over in the night. They may wake up feeling grouchy or misbehave as a result of an uncomfortable night's sleep.
That's where our 1000 Pocket Sprung Orthopaedic Mattress 90 x 190cm (pictured) takes the worry of their discomfort away.
It'll deliver added comfort thanks to its pocket sprung technology – each of the 1,000 springs is housed in an individual fabric 'pocket'. With optimum orthopaedic firmness, these articulated springs increase the support levels in allowing more movement.
What's more, you can rotate it 180 degrees and turn the mattress over to distribute the impact on the mattress where your child will rest.
Already have a bed base that is EU sized? Simply check out our 1000 Pocket Sprung Orthopaedic Mattress 90 x 200cm.
2. Stains and Discolouration
As parents, we understand that little accidents will happen – it's only natural. Yet, knowing there are stains there can also suggest it's time for a new mattress.
Stains harbour odours and bacteria, so introducing a fresh mattress will only build your youngster's confidence and comfort.
You may worry that a new mattress will soon resemble the older version in terms of discolouration – but that's where a mattress protector can be a 'life saver'.
We'd recommend choosing one in a natural, breathable and sustainable fabric – so you can protect their mattress and the planet for your kid's future. Available in 10 different sizes, the extravagant Panda London Bamboo Mattress Protector ticks these important boxes.
Waterproof and machine washable, it can be quickly laundered and put back on the bed. It avoids the expense of having to replace the new mattress after only a few weeks.
3. Creaking Springs When They Turn Over
Traditional mattresses will often let you know when they're approaching the end of their 'mattress life' with a creaking noise.
And, just like us, kids can be sensitive to deteriorating springs within a sprung or coil mattress. We've all been happily 'drifting' only to move and find them 'digging in' our ribs.
Thankfully, the UK designed brand Little Green Sheep has come to the rescue with their Kids Natural Junior Mattress 90 x 190cm – for children aged between 2 and 12 years.
Built from layers of Coconut Coir (husk) – it maintains an even support and reduces pressure points by acting as mini 'springs'. Then, the natural latex layer ups the 'comfort factor', whilst the breathable fleece wool means your little one will sleep at a pleasant temperature.
4. They've Started Sneezing - At Night Times
Coughs and colds aside, you may have heard your little tyke sneezing during the night.
This can be due to the millions of dust mites that live within their mattress – I know, this may not be the nicest thing you've read today. But, many of the mattresses we offer are hypoallergenic – meaning you can tuck them in and be reassured that they'll sleep easier than on their old mattress, due to reduced sniffles and coughing.
Also, purchasing a mattress topped with foam or made entirely from memory foam may ease their allergies. They don't retain dust as much as your typical spring or coil mattress.
That's why I'd suggest shopping for the Pocket Sprung Foam Mattress 90 x 190cm, due to its soft foam top layer. At 1cm deep, this mattress provides pocket sprung ingenuity with highly hypoallergenic material.
Looking to improve coughs whilst keeping their original mattress?
Panda London's Bamboo Memory Foam Mattress Topper will add a sumptuous 5cm layer – without having to replace the whole mattress.
5. They've Outgrown Their Mattress
The first few years of a child's life will see them grow significantly taller.
In other words, they'll not be a 'happy bunny' in a 'tiny' cot or toddler bed once they've started to outgrow it.
Yet, they'll be sure to feel like 'all grown up' when you show them their new small double bed – including the Superior Sprung Mattress 120 X 200cm – from the marvellous team here at Cuckooland. Being made in the UK from damask mixed fibres, you'll be slightly envious that this medium-firm mattress wouldn't fit your own frame.
Whilst your kid's mattress may look fine at first glance – having avoided visible discolouring and sagging – the chances are they'll need a replacement mattress if they're aged over 7 years old.
The experts often recommend you keep your mattress for approximately 7-10 years for all mattress types.
So see in 'better days' – or should that be nights – by noting the date when you order your child's new mattress. It could save you some grumpy encounters at the breakfast table, after all.
Encourage Happier Learning by Replacing Your Child's Mattress