A Blast From The Past – Top Tips for a Retro Home Makeover
Spend any amount of time in the wonderful world of Cuckooland and you're sure to find yourself staring in awe at our incredible range of retro-inspired home accessories. Not only are we THE place to be for the best in retro gifts, but we also know how to give your home the sort of retro makeover that's reserved for the likes of Grand Designs – if they aired in the 70's and 80's!
We hope to bring the nostalgic goodness of yesteryear into your home whilst adding a funky, fresh feel to decor that may have seen better days. So be prepared to take a trip down memory lane with our guide to a retro home makeover.
Turn Back Time With A Turntable
We stand firm here at Cuckooland that music of yesteryear is far superior to that of today's offerings. Judging by how popular our retro record players are, we tend to believe our customers think the same. A vintage-inspired home needs a record player like Freddie Mercury needed his moustache. So go all out with the wow factor with a uniquely styled GPO Ambassador Record Player. Your home will sing with yesteryear joy with this little beauty!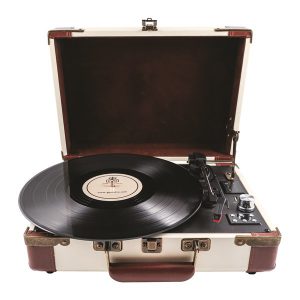 Sideboard The Style
The retro-inspired makeover is all about placing key pieces of furniture that fuse past and present. Take for example the vintage Juju Sideboard, this incredible piece of furniture looks like a priceless family heirloom. The classic design features three doors and three drawers, which will allow you to declutter and evoke that popular minimal look of today. The walnut veneered doors give this unique sideboard a warm feel, which will fit right into a retro-inspired interior.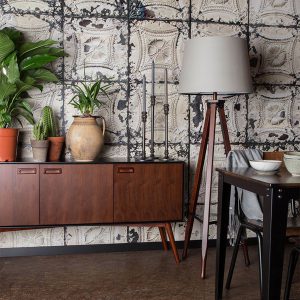 Rock The Retro Look
You can't have a retro home without paying homage to the rock gods and what better way to do that than with a framed album cover. The pop art inspired Queen Framed Album Wall Art would look fabulous in just about any bedroom, lounge or home office. This nod to Andy Warhol's famous Marilyn Monroe print has been produced using giclee 12 ink colour technology on high-quality paper for a razor shape image. This impressive print would make the perfect luxury gift for any music fan for sure.
Say Hello To The Past
With modern technology taking over just about every aspect of our lives, there is often little room for funky style. Today's phones offer all the features found on an international space station, but most lack that stylish individuality that came as standard in the 60's and 70's. So bring a little bit of style back into your home with a retro telephone. Our retrogressive phone not only makes the perfect gift for couples who have an abundance of quirky style, but it can add some serious vintage coolness to any home.
Time To Rewind
Bring the 1950's into your home with a retro clock that is every bit cool as it is functional. The Newgate Ice Cream Wall Clock is straight out of a 1950's diner and will add a cool element to the kitchen or dining room. With a Vintage red, metal and cream finish the Newgate Ice Cream Wall Clock will subtly add a touch of vintage classic design to your home.
Vintage Vino
Sometimes we all need to make a bold statement about our style and individuality to which our homes often play centre stage. If you're after a truly bold and larger than life vintage statement, then look no further than the Vintage French Style Wine Cabinet. This utterly retro and unique fully functional wine rack is made for a vintage loving, wine enthusiast. Complete with wine racks and storage for all your glasses, you can host the greatest soiree this side of the last century with this incredible home accessory.
Light Up Your Life
There are iconic pieces of furniture that just scream retro awesomeness. The Retro Ceiling Light is one of those pieces. Made from chrome (and also available in cool copper), the Retro Ceiling Light wouldn't look out of place in a James Bond film. This sleek ceiling light is available in two sizes meaning you could place it in virtually any room.
So there we have it, seven wonderful ways in which you can give your home a retro makeover. Here at Cuckooland, we love those quirky little additions that make a house a home. Our interior design team is always on standby to answer any questions you may have – simply call us on +44 (0) 1305 231231 Mon-Fri 9-6pm or email customerservice@cuckooland.com and our super friendly team will reply immediately.