Create a Space-Savvy Nursery
The little things in life are often the sweetest. That's definitely the feeling you get when a tiny tot's about to enter your life… and you begin to enter the world of all things miniature. From clothing to nursery furniture, from toys to food, you're now in a weird sort of Bonzai world where big ideas of tiny proportions jump out at you from all directions as you prepare for the imminent arrival of your teeny boy or girl…
However, when it comes to preparing a dream nursery, size can be an issue. Plenty of expectant mums and dads scratch their heads when trying to transform the spare room. But remember: small is beautiful! There are countless, clever ways to use a limited space to your advantage. Let's look at them together with a bunch of items that are sure to tick all the right boxes, because not all of us have space to spec a Nursery out like this:
Getting the basics right
Every cherub needs a beautiful cot, preferably one that boasts a matching drawer for baby's doodads. Many nursery sets are too extensive for tight spaces – three can be a crowd, after all. That's why we recommend the Stamford Cot Bed 3 Piece Nursery Set, a triple-hitter of cot bed, wardrobe and dresser drawers with a sumptuous design.
The wood-and-green look is ideal for modern parents who take pride in their interior; light colours visually expand a room, so hey presto, your nursery will look spacious in no time. What's more, there's an under-drawer and the option to transform it into a bed fit for toddlers (we're getting ahead of ourselves here, but they'll grow at lightning speed!). The cot rails are proofed against wee gnashers when baby starts teething, so you can rest easy that all stages of their development are accounted for.
For those first precious months though, a modest cradle will do for keeping your child by your side. The Snuzpod triple feature Crib, Bassinet and Freestanding Cot encases little arms and legs in a transparent outer layer, letting you wave and smile at that burbling baby face from the comfort of your bed. It's a great choice for newborns yet to shoot up to the cot stage, and it's small enough to move around the home without knocking anything and disturbing their rest.
Changing perspectives
Once you have the basic slumber necessities down to a T, you'll have to provide somewhere for keeping your baby daisy-fresh. You don't have to go for anything humungous; just a simple changing table will do, especially if it lets you free up room for other items.
Your best bet might be the Noga Baby Changing Table, courtesy of Parisian design moguls Charlie Crane. With a simple fix, it hangs on any suitable wall, giving the two-fold support of an eye-level shelving unit and firm plywood base. You can tuck away hand lotion, talcum powder and spare nappies a hair's breadth away, whilst enjoying the extra floor space it frees up – an awesome choice for space-conscious nurseries.
Of course, sorting out a little critter's mess isn't the only excuse to keep a floor that weensy bit emptier. A Children's Wall-Mounted Bookshelf by Olivier Furniture does the business for holding their favourite bears, books and dummies above the furniture thoroughfare. Glossed in the high-quality sheen of white lacquer, there's no reason why you can't stash the best things for your baby and give a room bountiful surface area to boot.
Storage for small dimensions
There's a lot to think about when your baby starts to crawl and play – chiefly, how can I store their toys away in a furniture piece that's fit for low ceilings, or not rubbing shoulders with an open door? Never fear: Cuckooland's fondness for quirk and style means you're never short of modest storage items that pack mountains of charm into their makeup.
We're particularly fond of the Amsterdam House Wardrobe, for instance, which mimics the picture-book quality of those famous Dutch homes. Even for those of us who haven't been to the Venice Of The North, this piece is distinctive: a thin, rectangular impresario, it has the feel of authentically jagged architecture, coming in a range of colours and aesthetic moulds. Dotted by mini-windows, it's a gorgeous take on keeping clothes and goodies out of sight. For something more traditional, go for the Lucia 2-Door Wardrobe, which stands less than a metre tall and comes with two hanging rails inside.
By this point, you can gaze around the nursery and let a tentative grin emerge – you're almost there! Just to ensure baby's xylophone or raggedy doll doesn't get left in the open, a Children's Toy Box is your main port of call for a tidy play den. At less than 60cm high, it has ample volume for all their fun factors in one pile.
The final touches
Finishing up the space-saving nursery is pretty simple: use those remaining free walls! We stock a fab collection of super cool additions, some of which you might be jealous of yourself…
Take our selection of Animal Heads by Wild & Soft, which hang proudly above any sleepy eyes looking for something soothing to make them snooze. Coming in such huggable forms as a lion, polar bear or elephant, there's a veritable zoo of ideas to creep into your child's dream space. Try putting them alongside a soothing Mini Gingham Bunting line – you'll have an infant paradise to cherish, which is every bit as cosy as it is cute.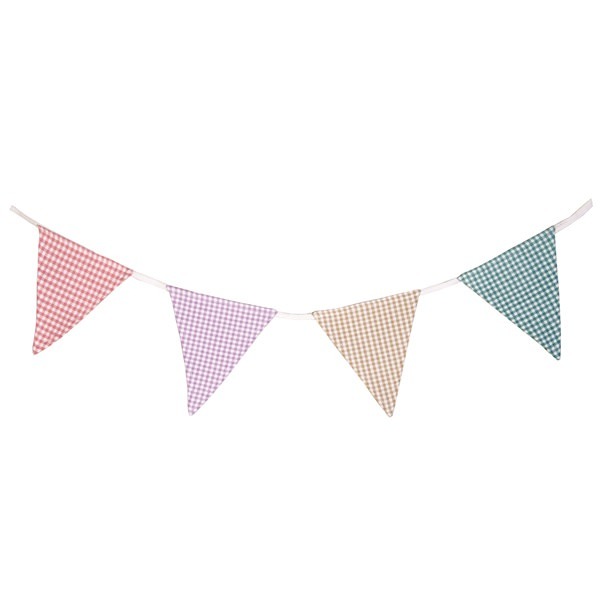 Cuckooland's ultimate goal is to cater for any sort of household, no matter the size and shape. We don't limit our kiddies' creativity when they're super small, so why should nursery décor be any different? With a couple of these items in your interior, you can gaze forward to years of expansive possibilities; or, as we call them, the loved-up times ahead. Browse our full collection to maximise your nursery space more than you bargained for. If you need help creating the perfect nursery for your little one then please don't hesitate to get in touch with our nursery dream team on +44 (0) 1305 231 231 or email us at customerservice@cuckooland.com