Create a Bookworm This World Book Day
A child's imagination is a vast and limitless resource. Children can create an entire universe out of nothing more than a blank piece of paper. As parents, we are naturally grateful for the books that inspire this ever-expanding creativity.  Think back to your own childhood and chances are you'll remember with great fondness, the authors, illustrators and storytellers who filled your mind with beautiful words. Whether you're a mega fan of Roald Dahl, Lewis Carroll or Dr Seuss; one thing is for sure, your mind was enriched by these classic story creators.
World Book Day falls on the 1st March 2018 and gives each and every one of us the chance to celebrate our favourite books of yesteryear. What's more, we can share this unconditional love of the written word with our children and grandchild. As detailed on The World Book Day website:
"It's a celebration of authors, illustrators, books and (most importantly) it's a celebration of reading. In fact, it's the biggest celebration of its kind, designated by UNESCO as a worldwide celebration of books and reading, and marked in over 100 countries all over the world."
We know that our customers share this love of books with their children by the wonderful array of pictures and messages we receive. Parents love our collection of cool bookcases and quirky beds with book storage solutions. See for yourself in our Pinterest gallery.
The Cuckooland Pinterest Gallery
For parents looking to get their little explorers into the wonderful world of books, we have some very nifty tricks up our sleeves. Cuckooland has some of the best and most unique children's bedroom furniture, to help keep all our books in order and out of dusty corners and mouldy garage boxes. Here's how to turn your little ones into bona-fide bookworms:
The Budding Bookworms
For those budding bookworms who are just starting their book-loving journey, we have the Kids Small Tree Bookcase by Mathy By Bols. This cleverly crafted bookcase features an inspired design which will house an impressive collection of starter books. So have Spot The Dog sitting proudly on the shelf and keep that gruesome Gruffalo up high, with this beautifully designed children bookcase.
The Fairytale Fan
Fairytales are addictive, just ask any Disney fan. So when it comes to an aspiring fairytale princess, you will need a whole lot of storage for those wonderful fairytale books. The Kids Cabin Bed With 8 Drawers provides ample storage for those treasured books. Your little one's collection has room to grow from Disney to all-out Fairytale Classics in the form of The Brothers Grimm. You certainly won't run out of space with this storage savvy bed.
For Bigger Bookworms
If your budding little reader has already amassed an impressive collection of beloved books we have the Tess Kids Bedroom Tree Bookcase. A quirky bookcase which wouldn't look out of place at a Mad Hatters Tea Party, this stunning piece of bedroom furniture will display books with pride. The branch-like shelves provide plenty of space to keep that book collection growing.
Tales Of Adventure
Adventure is but a journey of the mind, and your little ones will have the greatest adventures in our Caravan Children's Bed. Designed to appeal to wannabe explorers and travellers, this awesome kids bed will appease and delight those free-spirited little beings. What's more, the Caravan Children's Bed features a built-in book shelve so kiddies can keep their most treasured tales close by.
The Blank Storyboard
All a tale really needs is a blank piece of paper and a good amount of imagination to bring it to life. So when it comes to breathing life into your little one's book collection, the White Storage Cabinet With Shelves will do the job nicely. Designed in a crisp white shade to bring out the colour and diversity of an expansive book collection, this awesome bookcase by Oliver Funiture will stand with pride in any room.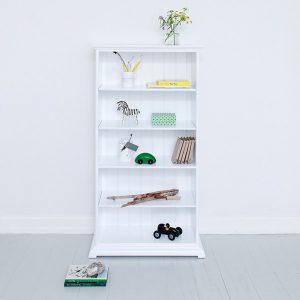 A Wonderful Story To Share
There is nothing better than sharing a favourite book or fairytale with someone dear to you. So when it comes to sharing those beloved books, we have a great option for kids who share a room. The Kids Dominique Triple Bunk Bed is not only a super cool bunk but it also has it's very own Tree Bookcase attached! Books can be shared easily between sibling and those favoured bedtime tales can be located in seconds.
The Writings On The Wall
If space is more limited, we have the Children's Wall Mounted Bookshelf for those book-loving kiddies. This bright, white bookshelf can easily hold even the wordiest of classics as well as an array of kids favourites. Easily mounted, the children's bookshelf by Oliver Furniture will make a delightful wall feature in any room.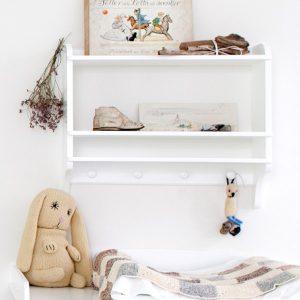 Here at Cuckooland, we are all about promoting children's imagination and creativity, as shown in our Storybook inspiration collection. It's our wonderful ability to imagine the impossible which creates the next generation of storytellers, inventors and explorers.
Children's furniture inspired by our favourite fairytale stories blur the line between fantasy and the real world; a facet of youth, perhaps, that we should stimulate in every way possible. Call Cuckooland's support team on +44 (0) 1305 231231 or email us at customerservice@cuckooland.com if you have any questions regarding our imagination expanding bedroom accessories.